The list of types of water bodies can be overwhelming. In the river category alone, there are creeks, streams, brooks, rivers and a bunch of other names for each of those. I think the reason for this is that, throughout history, there have been a lot of people hanging out at small rivers waiting for the fish to bite who had nothing better to do than to think up additional names for water bodies. Well, I'm fighting against this and limiting my blog title to "creeks". However, the same principles apply to brooks, streams, small rivers, cricks, forks and tributaries.
This is a two-part blog on shooting a creek with a blurred water effect, such as in my shot below from a recent trip to the Smoky Mountains. I'm doing this blog in two parts because I prefer to keep these articles fairly short and sweet. Part 1 focuses on everything before you actually compose and shoot. Part 2 will focus on the composition and shot itself.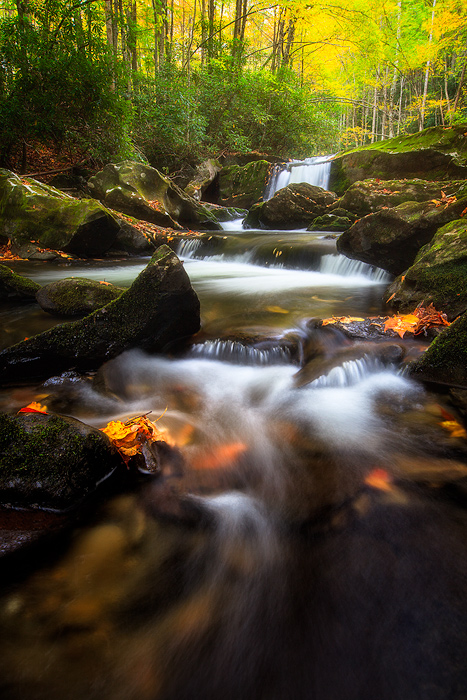 Equipment Needed
Polarizing Filter – Polarizer filters are necessary for shooting streams for two reasons: 1) They reduce the light getting to the sensor, which allows you to shoot longer shutter speeds. Without this reduced light, your shutter speed would be too fast to blur the water during daylight hours; and 2) They reduce or eliminate glare from the water surface. This glare can ruin your picture. I use a circular polarizer and rotate it until the glare disappears or is at its' minimum. You can also combine the polarizer with a neutral density filter to restrict the light even more, allowing for even slower shutter speeds.
Tripod – You will need a tripod due to the slow shutter speeds. Also, flimsy tripods won't work well if you have your tripod legs in the water while shooting.
Wide Angle Lens – I use a wide-angle zoom most of the time. A tilt-shift lens is another option, if you have one.
Camera Settings
ISO – 100
Mode – I recommend manual mode, which will help you pay close attention to both aperture and shutter speed.
Shutter Speed – You want shutter speeds in the range of 0.5-5 seconds or more. The longer the exposure, the more blurred the water will be.
Aperture – Your composition will likely include foreground and background elements which should be sharp throughout, which means small aperture. I generally use F16 as a starting point when shooting wide angle and have foreground elements fairly close to the lens, which is typically the case in shooting streams.
Positioning
Some of the better compositions require standing in the water – You have to use good judgment about whether or not it is safe to shoot from in the water. Although dry feet are more comfortable, sometimes the better composition is from inside the creek.
Be careful! – Wet rocks can be surprisingly slippery. Heed the advice of the warning sign below which was posted in my shower stall in a hotel in China. 🙂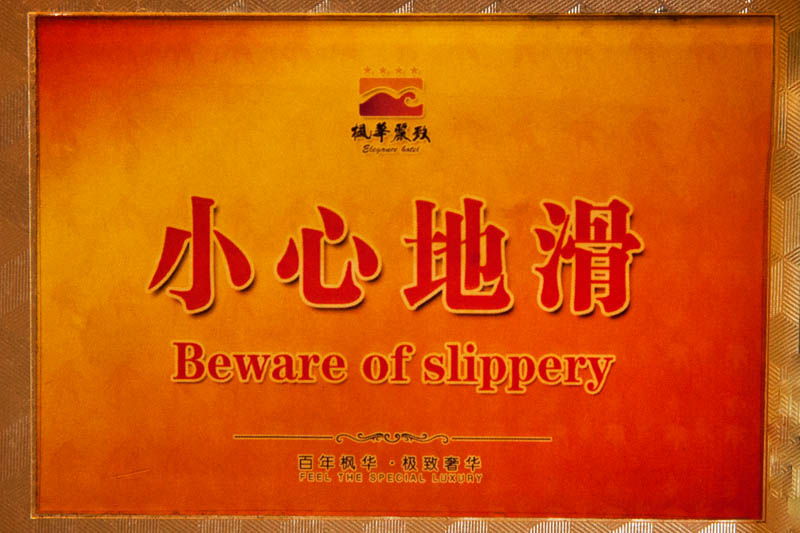 Well, that's it for Part 1. Part 2 will focus on the fun stuff…. composition and the actual shooting.