I just returned from a 10-day photography trip to Iceland that involved both camping and backpacking. Before I left, I took some pictures of the gear I took along for a blog post. Now, I'm sure that at least half of the readers of this blog just yawned, closed the window and got back on Facebook when they saw that the topic was packing. But, I'm convinced that there are a lot of photographers out there that will use this list as a resource. So, I will write on undeterred.
I've never really been a "packing list" person, but I recently created a detailed packing list specifically for this trip. Below is what I brought along, organized by major category. There will be very little commentary in this blog… just pictures and a list of items.
Photography equipment
Below is a picture of everything I typically bring if there is enough room. I'll leave some things at home depending upon the trip. Virtually all of this (except the large tripod if I bring it) gets packed in my carry-on for the flight.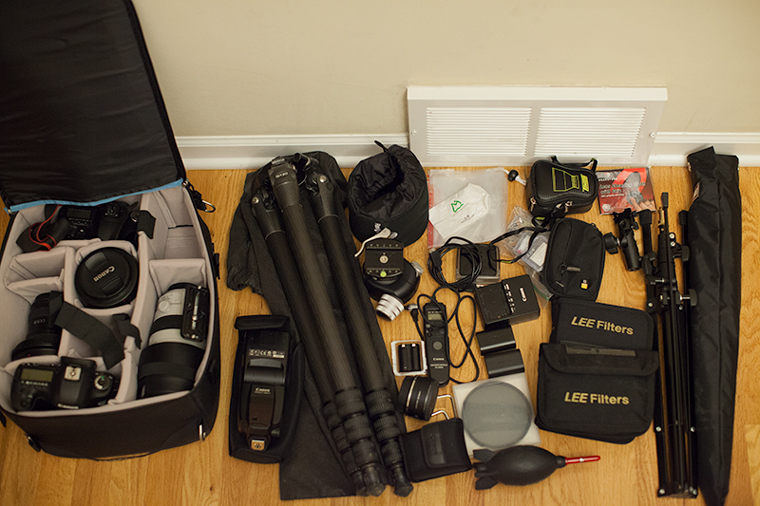 f-Stop Tilopa Bag (not pictured) with internal camera unit
Rain cover, straps, hooks for camera bag
Canon 5d Mark III with tripod plate
Canon 5d Mark II with tripod plate
Canon battery charger and extra batteries
16-35 w/ hood
24-105 w/ hood
100-400 w/ hood, ring, tripod plate
Memory Cards and case
Card Reader and cable
580EX II flash(es)
STE-2 flash trigger
Umbrella (Lighting)
Portable flash stand and connectors
Lee filter, holder, polarizer
Intervalometer
Gitzo GT3542LS Tripod
RRS ballhead
Tripod adjustment wrenches
Hoodman
Lens air blower
Lens cleaning cloths, wipes
Camping Gear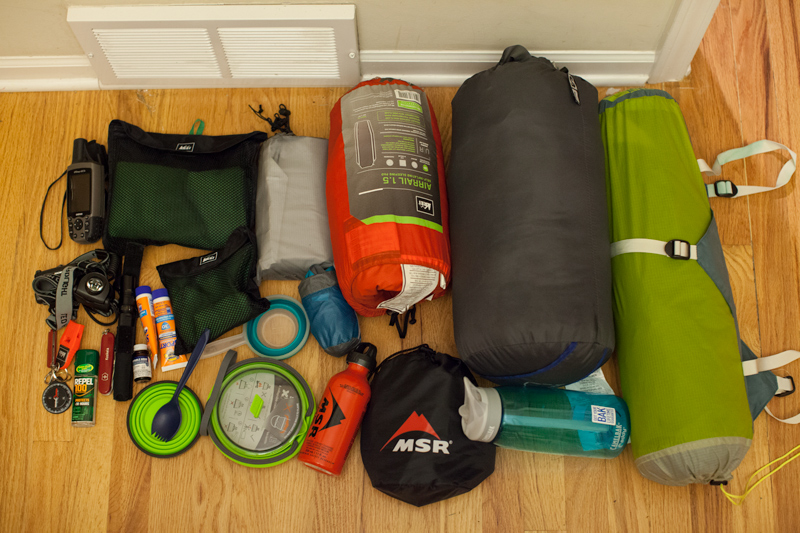 North Face Tent
Tent Footprint
Sleeping Bag and stuff bag
Sleeping pad w/ bag
Inflatable pillow
MSR Stove w/ case and accessories
MSR Fuel Bottle
Foldable Pot
Foldable cup/bowl
Foldable measuring Cup / Drinking Cup
Spork
Water bottle
GPS
Headlamp
Whistle & Compass
Small Fenix flashlight
Swiss Army Knife
Water purification tablets
Sunscreen – Mini
Bugspray
Camping Towels
Clothing
Because I want to keep this blog rated "G" for family viewing, I've excluded my underwear from this picture. But, trust me, I brought underwear to Iceland.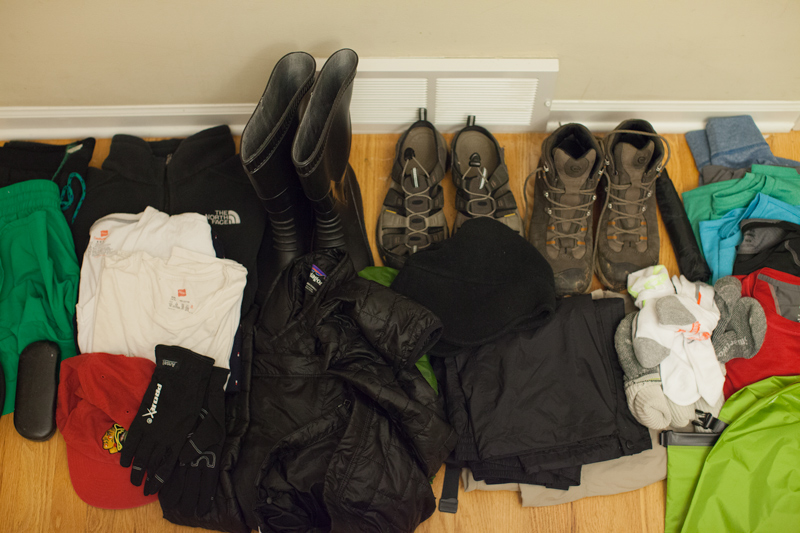 Short-sleeve and long-sleeve "base layer" shirts
Long underwear bottoms
Hiking pants
Hiking pants 2
Socks (Heavy)
Socks (Light)
T-shirts for sleep
Pajama Bottoms
Patagonia Down Jacket
North Face fleece jacket
Rain jacket
Rain pants
Winter hat
Baseball hat
Thin gloves (waterproof)
Fisherman's Boots
Hiking Boots
Hiking Sandals
Swimsuit
Clothes dry bag (Medium)
Clothes dry bag (Small)
Larger ziplocks for shoes
Umbrella
Sunglasses and case/bag
Glasses and Reading Glasses w/ case
Food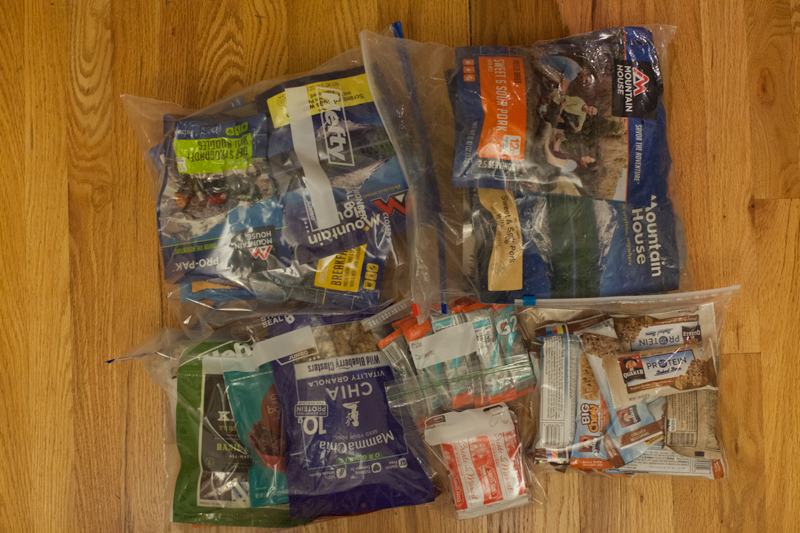 Freeze-Dried Meals (I brought around 12)
Protein Bars
Snacks
Hot chocolate
Gatorade powder packets
Miscellaneous and Equipment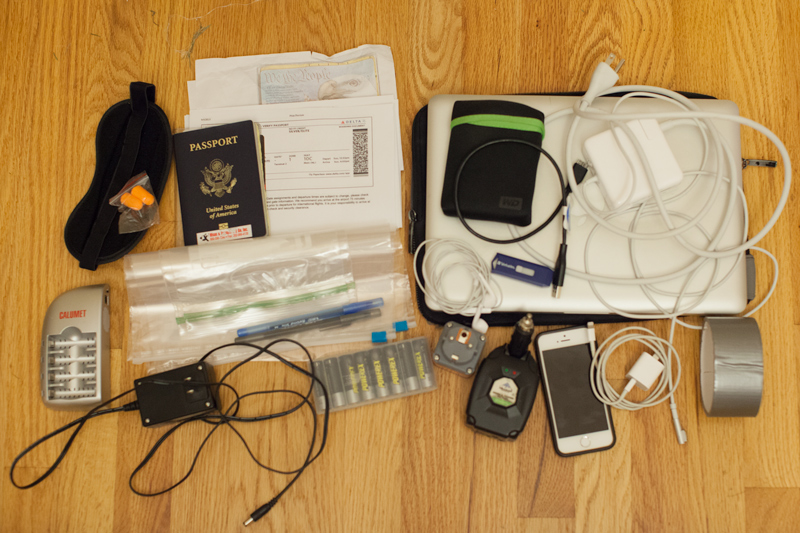 MacBook and cable
External drive and cable
Cell phone and charger
Electric adapter(s)
Memory stick
Inverter
Headphones – small
AA Quick Charger and adapter
AA Batteries and case
Passport
Copy of passport
Airline itinerary & Boarding Passes
Wallet
Cash (USD / Foreign / Tips)
Pen
Watch
Ziplock bags
Eye Shield
Ear Plugs
Duct Tape
Things to light a fire (not pictured… check on airline regulations for approved items and how to pack)
Medication / First Aid / Toiletries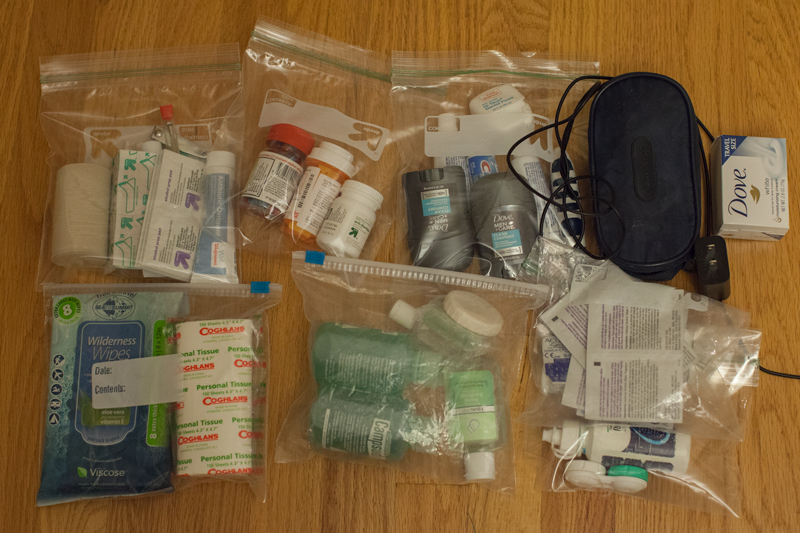 My prescription meds
Prescription Cipro
Ibuprofin
Immodium
Bandaids
Alcohol prep pads
Elastic wrap
Neosporin
Benadryl
Tweezers
Nail clippers
Lip Balm
Towlettes – Small
Bio-degradeable toilet paper
Campsuds
Shampoo
Soap
Hand sanitizer
Toothbrush
Toothpaste
Floss
Deoderant
Razor – electric
Mouthwash
Contact case
Small contact solution bottle
Contact lenses (extras)
Eye glass wipes
Glasses repair kit