Everyone has regrets over having missed some great photo opportunity which they will never get back. However, nobody's story is as sad as mine. So, grab a handkerchief and read on…..
It was shortly after I got my first 35 mm film camera while in college. I was in Rome with a group and had the opportunity to see Pope John Paul II speak at St. Peter's Basilica. I was in the front row in the back section and perfectly positioned as he was driven by to touch hands (FYI, yes, I touched the Pope's hand). As he approached, I got a beautiful close-up portrait shot of him waving while looking right at me. Or, so I thought. When I picked up my pictures after processing (yes, this was in the days of film), I discovered that my prize-winning image was completely out of focus.
Now, before you rush to judgment and close my blog window, my ancient camera did not have autofocus and the Pope was in a vehicle driving straight at me. However, the point is, I'll never get this shot back. Here are a few tips for avoiding missing the shot in situations where you are shooting a scene with a moving subject which you cannot control, such as a Pope driving by:
Tip #1: Keep looking through the viewfinder. This shot of the cormorant fisherman with his bird is one of my favorite images. I shot this in Guilin, China. The bird spread its wings like this for a split second. There is no doubt that I would have missed this shot if I wasn't looking through the viewfinder and ready to shoot.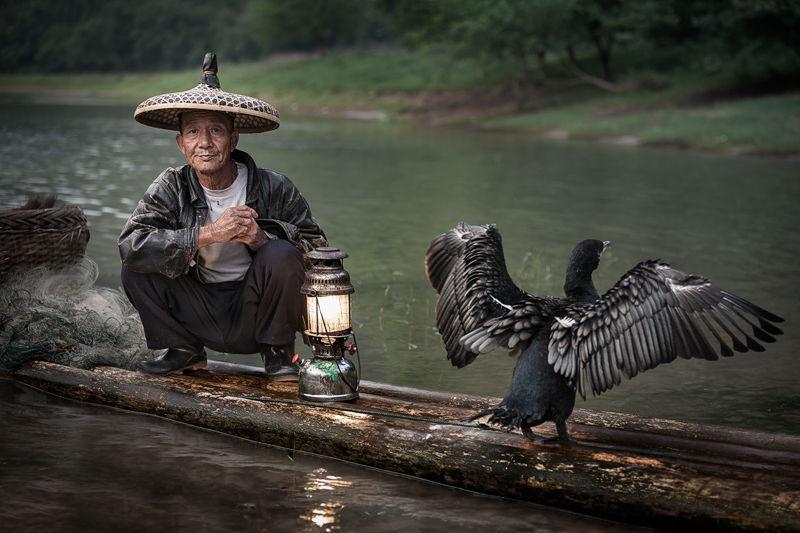 Tip #2: Pre-focus on your subject. I have my camera set up to lock in auto-focus at the press of a button on the back of the camera. In this case, I zoomed in, focused on the eyes of the fisherman, then framed the shot with the bird in it and waited. I didn't need to worry about focusing after that since the fisherman was staying still. If the main subject is moving, you can use a focus setting which tracks moving subjects, such as AI Servo on Canon cameras. Or pre-focusing on a spot where you anticipate your subject will move to is a good strategy in some cases.
Tip #3: In some cases, use Program Mode. Many photographers prefer having independent control over aperture and shutter speed. However, in some cases, you just need to get the shot. Consider using Program mode. You don't have to tell anybody you shot in Program mode. Heck, just tell your friends you got the shot in Manual mode and manually focused, too.
Tip #4: Don't put your camera away too soon. I got this cool shot of a helicopter headlight trail over Chicago about an hour after the 4th of July fireworks had ended and most people were headed home. I noticed a helicopter flying around the city in the distance and saw a potential photo opportunity. After about an hour, the helicopter flew a cool "S" curve around the Sears Tower. (Yes, I know it is now the Willis Tower, but I am a long-time Chicagoan and will always call it the Sears Tower.)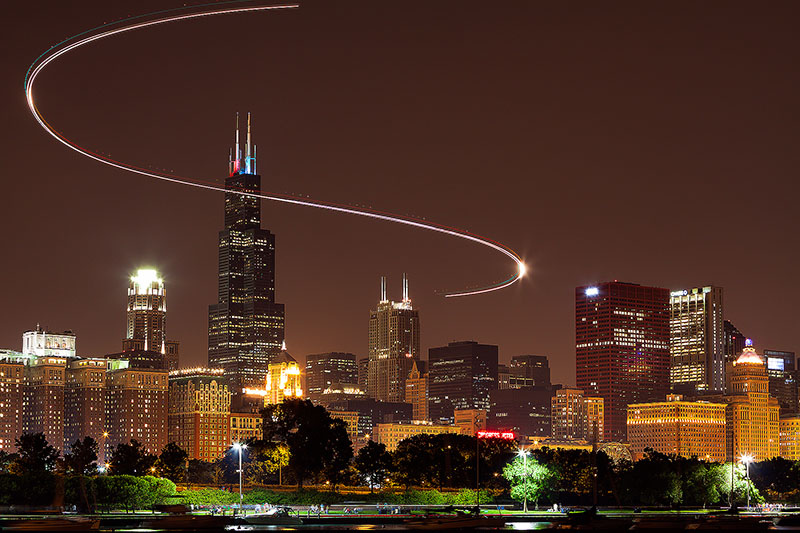 Tip #5: Pay attention to your settings. This is especially important when shooting in aperture priority mode with moving subjects or when shooting handheld. Failing to pay attention to your shutter speed could result in a blurry image.
Tip #6: Check the image on the LCD display. For those shooting digital, take advantage of the LCD display. If you can afford the time, zoom up close in key parts of the image to check for sharpness.