I love wide-angle lenses. I love them so much that I need to say it again. I LOVE wide-angle lenses.
When I refer to my love for wide-angle lenses (I really love these lenses), I am mostly talking about the widest lenses, also known as ultra-wides. Without getting too technical (because I can't), these are lenses in the 14mm-16mm range for those of you who have full frame sensors (you know who you are). For cropped sensors, the 10mm range is the upper end of ultra-wide. These are different from fish-eye lenses, because ultra-wides keep the lines straight while fisheyes curve the lines. Don't know what I'm talking about? That's okay… read on as the same principles apply (somewhat) to wide-angle lenses in general.
I'll start with the most important thing I have to say about wide-angles. Do NOT just use these lenses for jamming as much as possible into the picture. In fact, this usually doesn't look good.
There are three things that I like about ultra wides. First, these lenses exaggerate the distance between the foreground and background. Objects that are far away look smaller than they really are while closer objects look larger. Getting close to a foreground subject makes the subject more prominent in the frame. Below is an example. I was shooting somewhat close to the model… probably 12-16 inches away from her left hand. The model's dress and hand look large… like they have been pulled towards the camera. The building feels farther away than it was.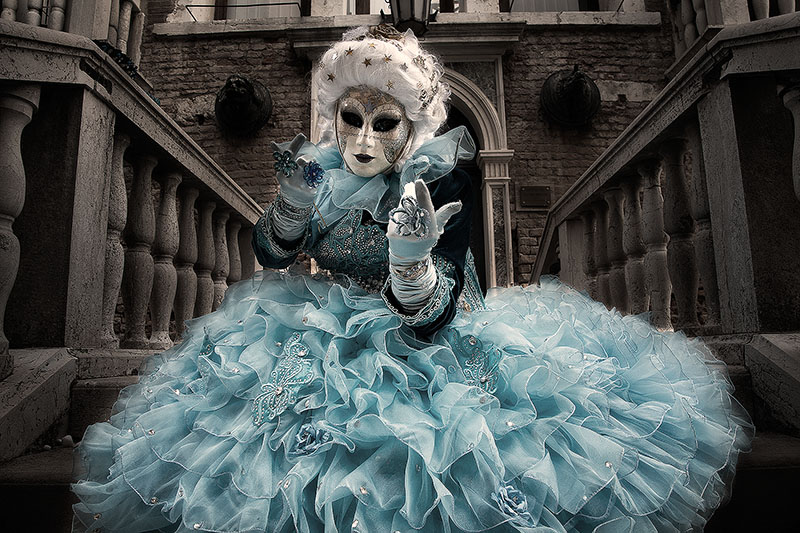 Here is another shot from Venice which further illustrates this. The distance between foreground and background has been greatly exaggerated.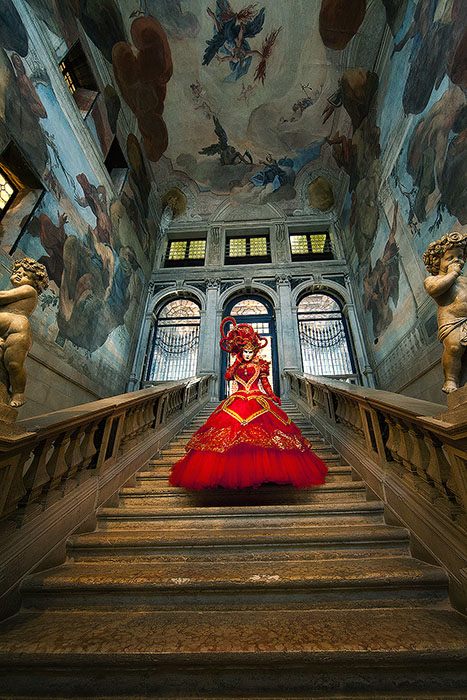 Second, ultra wides make the corners look stretched out. Check out the lower right corner of this picture shot with my 14mm lens and compare it to the center of the frame and the building in the distance. This stretching of the corners adds a lot of dimension to this image. One challenge in taking this shot was keeping myself out of the reflection in the sign.
Third, yes, sometimes wide angles are helpful for jamming everything into the picture. Cathedral shots are an example. I could not have gotten this entire shot in without an ultra wide lens.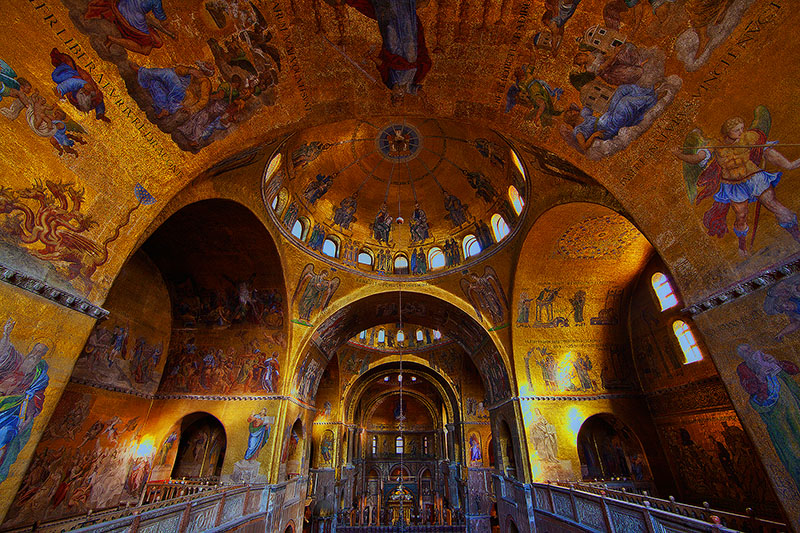 Here is some advice on using ultra-wides (and wide angles in general):
First, do not be shy about getting very close to your subject. Walk up to and around your subject while looking in the viewfinder and you will see how moving forward or back just inches can dramatically change your composition. This will also make you look cool to those around you. Just don't trip on anything while looking through your viewfinder. Not that I've done that. I'm just saying.
Second, pay extra careful attention to the background. There is more background to worry about. It is much easier to inadvertently include unwanted elements. It is also more challenging to position yourself just right in order to get corners and lines where you want them. An example of where I blew this is the stairway shot earlier in this article. Notice the ceiling isn't straight. I was positioned slightly off-center.
Third, and last, start without a tripod. Even if you will actually shoot with a tripod, start by walking around and determining your position first.