January 30 - February 6, 2024 -
SOLD OUT
February 7-14, 2024 -
SOLD OUT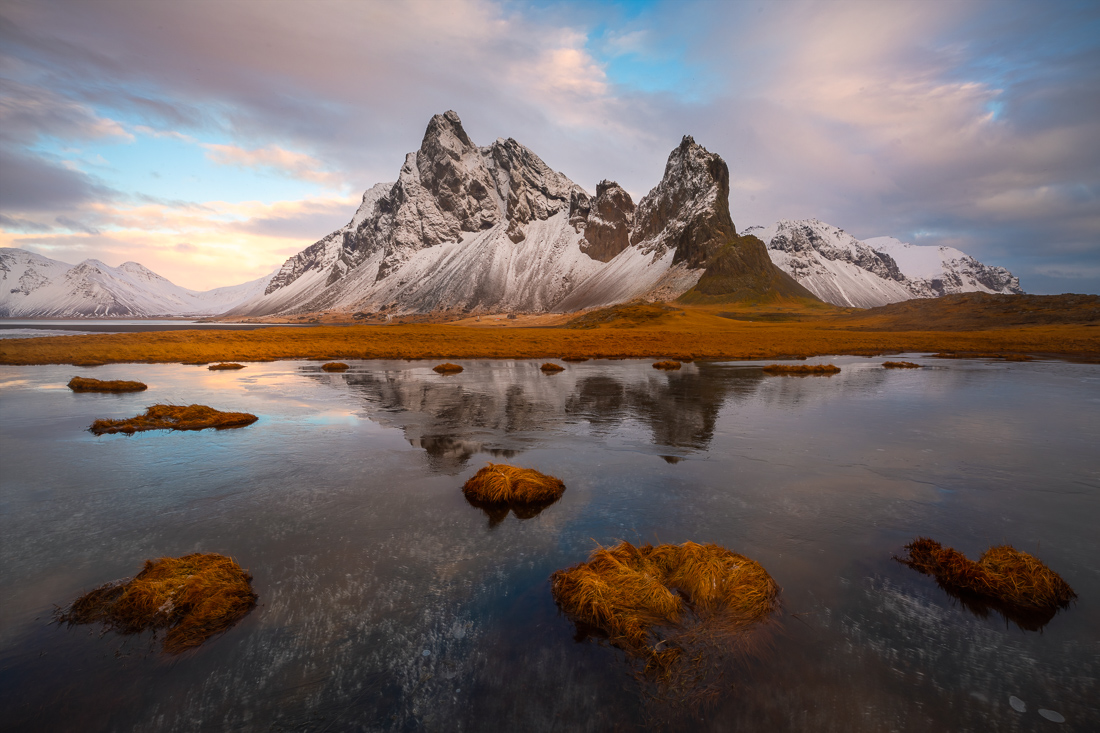 Location - Iceland
Dates - January 30 - February 6, 2024 (Tour 1) and February 7 - 14, 2024 (Tour 2) (8 days, 7 nights)
Price (Shared Room) - USD $4,349 (*See note below)
Price (Single Room) - USD $4,999

Tour Operator (For registration & payments) - Josh Merrill Photography
Instructors - Josh Merrill & Ken Koskela
Tour Overview
There is no other place quite like Iceland. In addition to a fascinating history, Iceland boasts world-class waterfalls, rugged sea coasts, glacial lagoons, turquoise glaciers, active volcanos, geothermals, snow-capped mountains and black sand beaches covered in icebergs. And when conditions are right, excellent opportunities to see and photograph the Northern Lights with dramatic foregrounds.

Josh Merrill and Ken Koskela will be leading a small group of photographers, as we explore Iceland's best, including the classic locations along the South Coast, as well as some lesser known spots that offer unique photographic opportunities. We'll photograph Northern lights, if/when they are out, juxtaposed against some of the most incredible landscapes in the world. After visiting the South Coast, we'll head over to the Snaefellsnes Peninsula on Iceland's West Coast. If you haven't experienced and photographed Iceland in Winter, this is your opportunity!

Itinerary
Day 1 (Arrival at Keflavík / Reykjavík; lodging near Brúarfoss) - Our adventure will begin with your arrival at Keflavík International Airport (airport code KEF). We will meet you upon your arrival on the morning of February 7th. Our journey will begin straight away with a drive up towards Brúarfoss and our nearby hotel. Conditions permitting, we will spend our first afternoon / evening along the incredible aqua-colored, spring-fed Brúará River on our way to Brúarfoss, one of Iceland's most unique and beautiful waterfalls.
Nights 2-4 (Jökulsárlón/Höfn) - We'll spend much of day two driving across Iceland's dramatic South Coast as we take in stunning and otherworldly landscapes and seascapes. We'll stop along the way to photograph dramatic waterfalls and potentially glaciers, as we head towards our conveniently located hotel for the next three nights. Here we will be in close proximity to both Jökulsárlón and Höfn. We will photograph the iconic "Diamond Beach", creating beautifully contrasting images of icebergs on black sand. This beach looks different every day due to the constant moving in and out of glaciers. We'll also explore the one and only Jökulsárlón Glacial Lagoon, as well as Winter mountain scenes further east, such as Vestrahorn and Eystrahorn, located on the Stokksnes Peninsula. The South Coast has constantly changing glaciated terrain that presents excellent photograph opportunities. Although we will be well-positioned at sunrise and sunset, we will also take advantage of favorable lighting conditions as they occur throughout the day. If the Aurora appears, we will be photographing. When weather is less conducive to photographing, we will utilize our time to cover a variety of basic and advanced landscape post-processing techniques. If conditions allow for an Ice Cave Tour (typically determined by local tour guides), we will spend time photographing the glowing deep blue interior of the Vatnajökull glacier.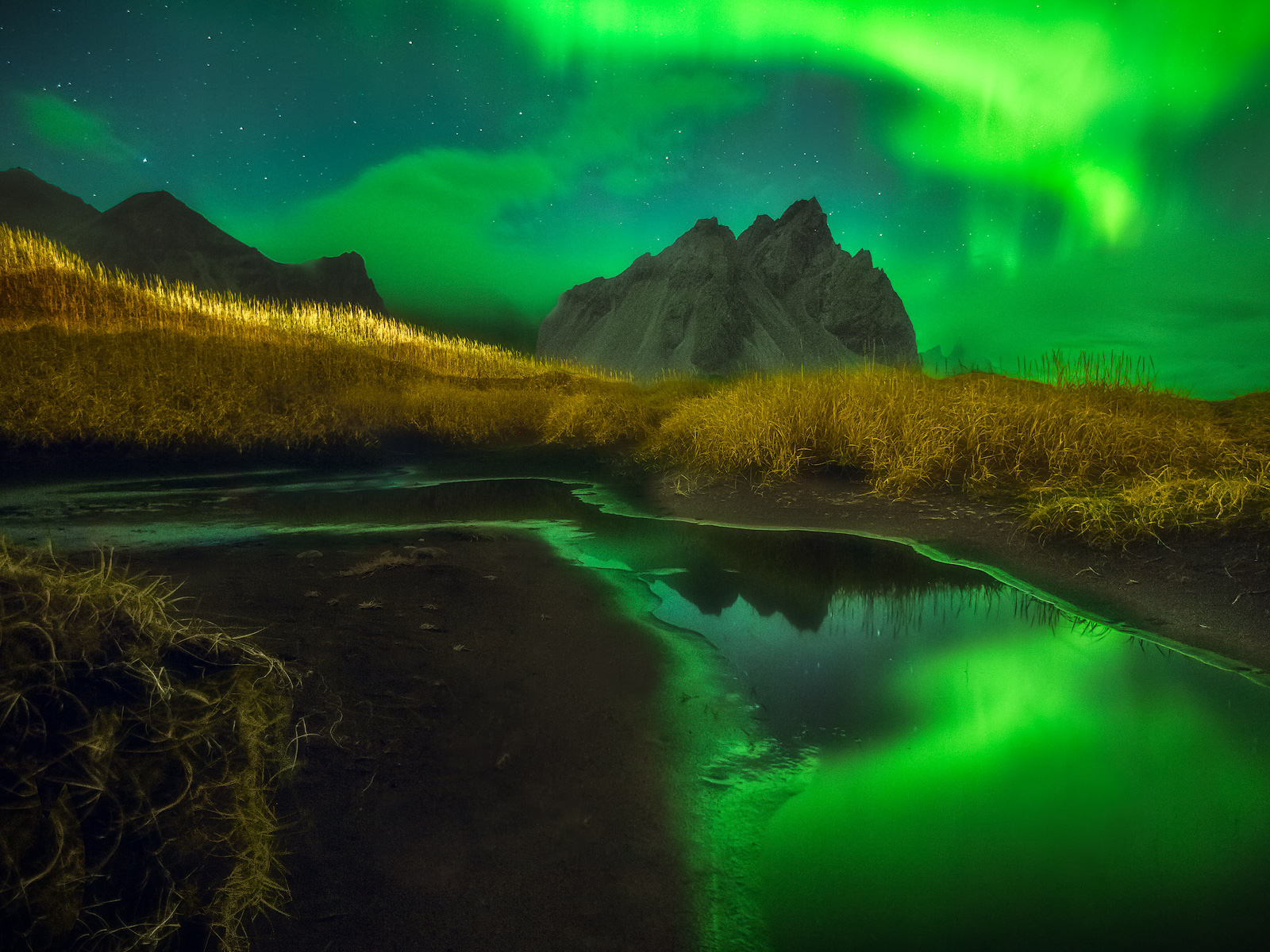 Night 5 (Vík) - After three days of exploring the very best of the Iceland's South Coast, we'll change locations and begin driving westward. We'll stay the night in Vík and take advantage of the nearby black sand beaches, waterfalls, and/or glaciers along the way. We'll choose our shooting locations based on the available weather, light, and landscape conditions.

Nights 6-7 (Snæfellsnes & Departure) - We'll continue our journey towards the West Coast and the Snæfellsnes Peninsula where we will be based for our final two nights. The Snæfellsnes Peninsula is home to wild coastline, volcanic lava fields, waterfalls, quaint churches, and the incredible Mount Kirkjufell andKirkjufellsfoss at its base. We'll photograph our final sunrise on the morning of February 14th (day 8 of our tour) and, after a quick breakfast, begin our drive back to Keflavík InternationalAirport for your late afternoon or evening flights home.

All plans and itineraries are subject to change, based on the conditions that we experience. Iceland(especially the South Coast) is known for wild weather. Extreme winds and precipitation can make travel impossible at times. We need to stay flexible with our itinerary, and roll with the conditions that we experience.

Skill Level & Camera Equipment
This photo tour is open to photographers of all skill levels. The low participant-to-instructor ratio allows us to spend more time with each participant. At minimum, however, you should be familiar with your camera's controls and understand the basics of composition. There is no need to worry if you do not have experience with night photography, as we will be teaching these techniques early in the tour.
For night photography, you will get better results with a camera that can handle ISO's in the 1600-6400 range with relatively little noise. A wide-angle lens with an aperture of f/2.8 or wider is desirable. Contact me if you have any questions on this. You should bring lenses in the wide-angle through telephoto range to capture the myriad of photographic opportunities in this region. We will be teaching post-processing techniques in Photoshop and Lightroom, so bring your laptop. Bring plenty of memory cards. Bring extra camera batteries and, as always, a heavy-duty tripod.

Weather & Clothing
Winter in Iceland is not typically as cold as you might think. Highs in February average near 39 degrees F with lows of 30 degrees. However, it is possible to experience cold snaps that plummet much colder. Bottom line – you will want to be prepared for cold weather. When outside, we will be within a short walking distance of our vehicle at most times.

Transportation & Logistics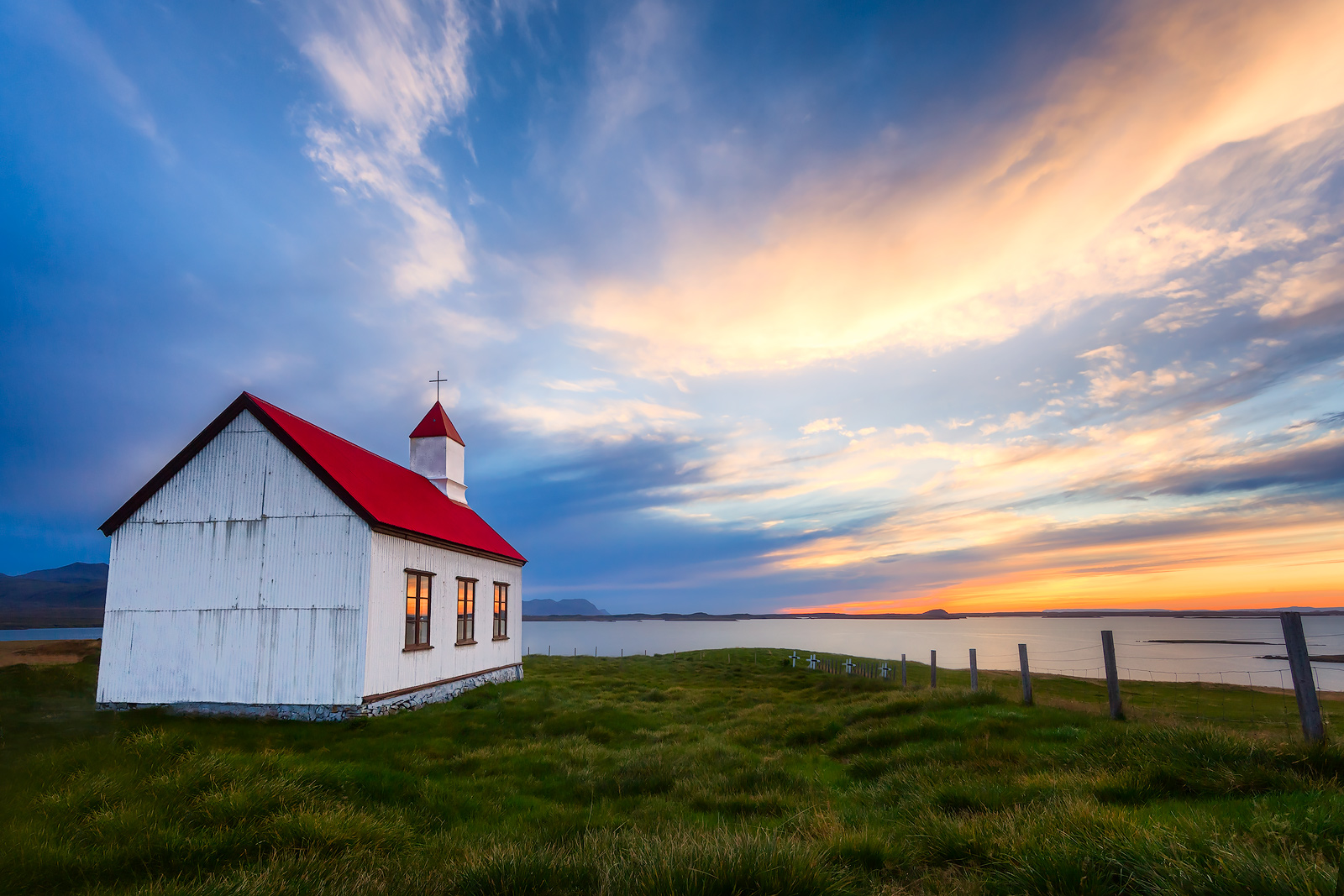 Making your air arrangements - For those of you flying in from the U.S. or Canada, we recommend the following: 1) Buy a roundtrip ticket that arrives in KEF (Keflavik International Airport) on Day 1 of the tour (January 30 for Tour 1 and February 7 for Tour 2). Most flights will depart the U.S. on the evening before. We can advise on the specifics as flights become available.

For your return travel, book your travel back from KEF to your home destination on a flight that leaves late in the afternoon or evening of the last day of the tour (February 6 for Tour 1 and February 14 for Tour 2). Again, as flights become available, we will make recommendations. This will ensure that we have enough time to photograph one final sunrise on the Snæfellsnes Peninsula prior to driving towards KEF.

As for local transportation, we will comfortably travel in vans. Many of our drives will be short, but we will also have multiple drives of 60 minutes or more, with a couple exceeding 3 hours as we move hotels. For the sake of chasing the Aurora, we may need to drive out of our way to dodge cloud cover. Additionally, volatile weather systems have the potential to affect our ability to photograph certain types of scenes and even our ability to get around. Rest assured, we will work our hardest to get you to the best locations to photograph based on the conditions that we experience, but always keeping safety first.

Physical Requirements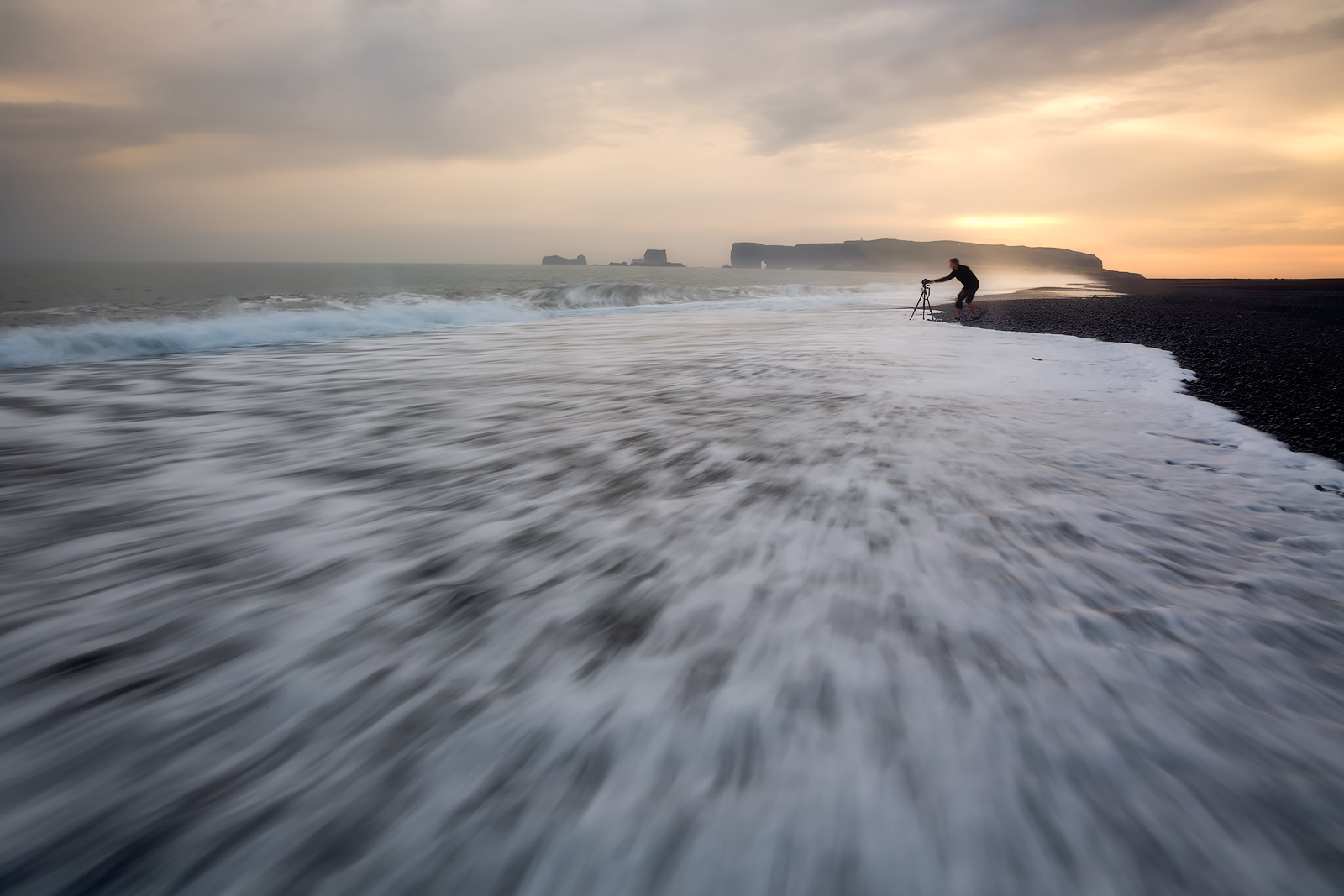 There will be no extremely long hikes on this trip. Generally, we will be walking very short distances on mixed-terrain paths, which are sometimes at an incline, as well as positioning ourselves on potentially slippery rocks. So, having good balance and the ability to walk up and down an incline in varying conditions is important.
Travel Insurance
We strongly suggest you purchase emergency medical treatment and medical evacuation insurance for this trip.
Important Details
Tour Operator (For registration & payments) - Josh Merrill Photography

Instructors - Josh Merrill and Ken Koskela

Duration - 8 days, 7 nights

Price (Shared Room) - USD $4,349 (*See note below)

Price (Single Room) - USD $4,999

*Booking a shared room is only possible if you book the tour with someone that you will be sharing a room with or if we have another solo participant interested in a shared room arrangement.Unfortunately, we cannot guarantee a shared room option will be available.

Price Includes - Accommodations (sharing or single as noted above), breakfasts at some hotels, all local transportation including airport transfer, photo instruction & critiques.

Price Does Not Include - Everything not noted as included, such as airfare, passport and visa costs, food, other than those breakfasts that are included at some hotels, travel insurance, and alcohol.

We reserve the right to cancel the photo tour for any reason including low enrollment in the tour. We also reserve the right to operate the workshop with only one instructor if enrollment is lower than 6 participants.

Cancellation Schedule:

- 90 days or more prior to day 1 of tour = Refund of all registration fees and deposits
- 60-89 days prior to day 1 of tour = Josh Merrill Photography will retain tour deposit
- 59 days or less prior to day 1 of tour = Josh Merrill Photography will retain full tour payment

Registration and Payment
Josh Merrill Photography is collecting registration and payments. A deposit of 30% of the tour price and a completed registration form reserves your spot. Josh will e-mail you an invoice that allows you to pay online by credit card. If it's 90 days or less prior to the start of the tour, the full tuition amount will be due in order to complete your registration. Prior to 90 days out, Josh will invoice you for a deposit of 30% of the total tuition to hold your spot. Josh will then invoice you again for the balance prior to the 90 day point when the full amount is due.

See links below for registering through Josh's site as well as important policies information on payments.
Click here to register for the tour with Josh Merrill Photography

Click here to access Josh's webpage for this tour
Click here for tour operator's release of liability and policies (important!)
I am happy to answer any questions you have!
Click here to email Ken with questions
I hope to see you in Iceland in February 2024!