JUST ANNOUNCED!!
MAY 14-22, 2018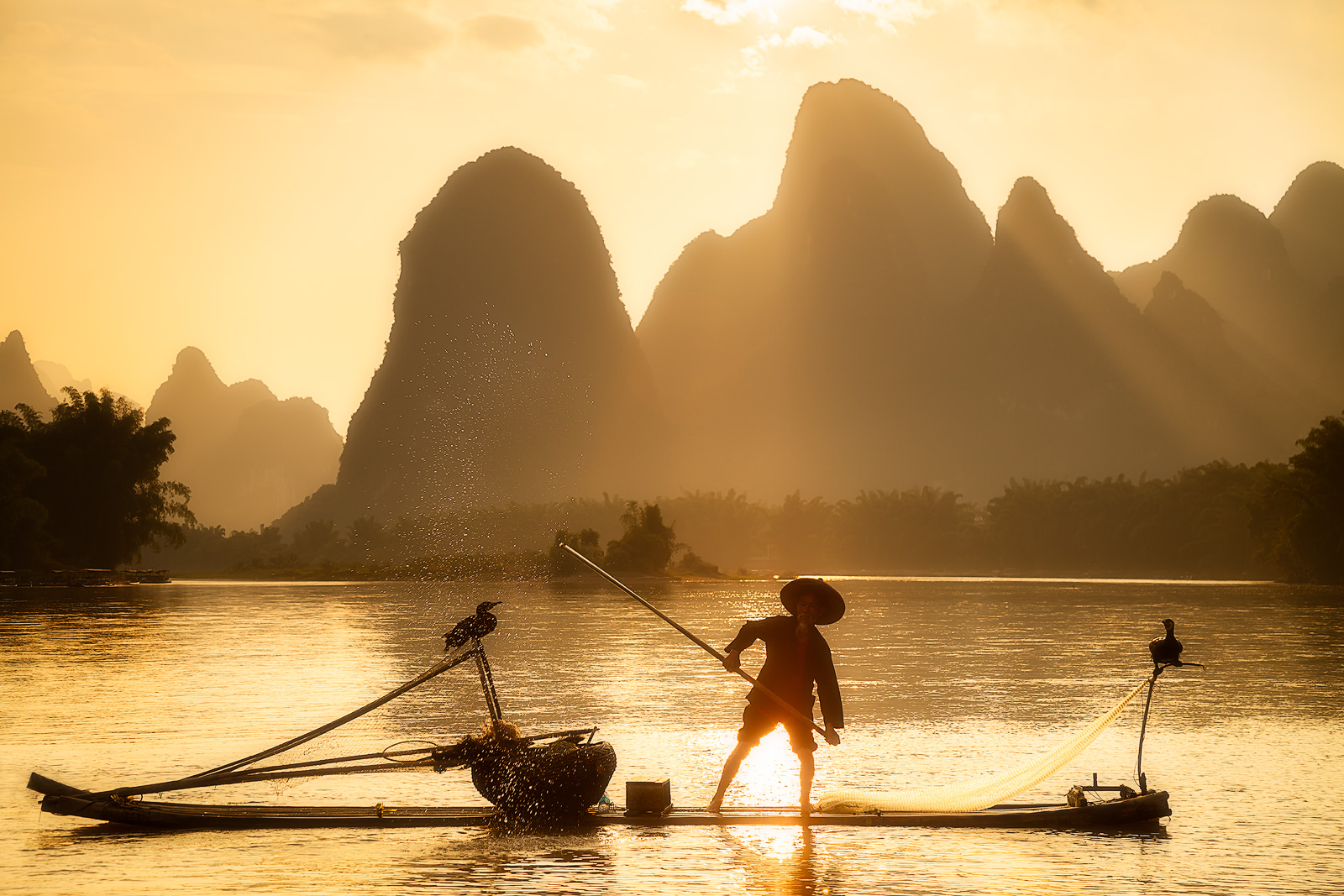 Guilin, China is a photographer's paradise. Join Rick Sammon and me to photograph the beautiful karst mountains, Li River, cormorant fisherman at sunrise and sunset, the incredible Longji rice terraces, the XiangGongShan overlook, Cuipinghsan Hill, and many other incredible locations. We will also drop into rural villages for amazing portrait opportunities (indoor and outdoor) and spend a day (including a bullet train ride) to visit a tribal group.
Click here to see the gallery of images for Guilin, China
ITINERARY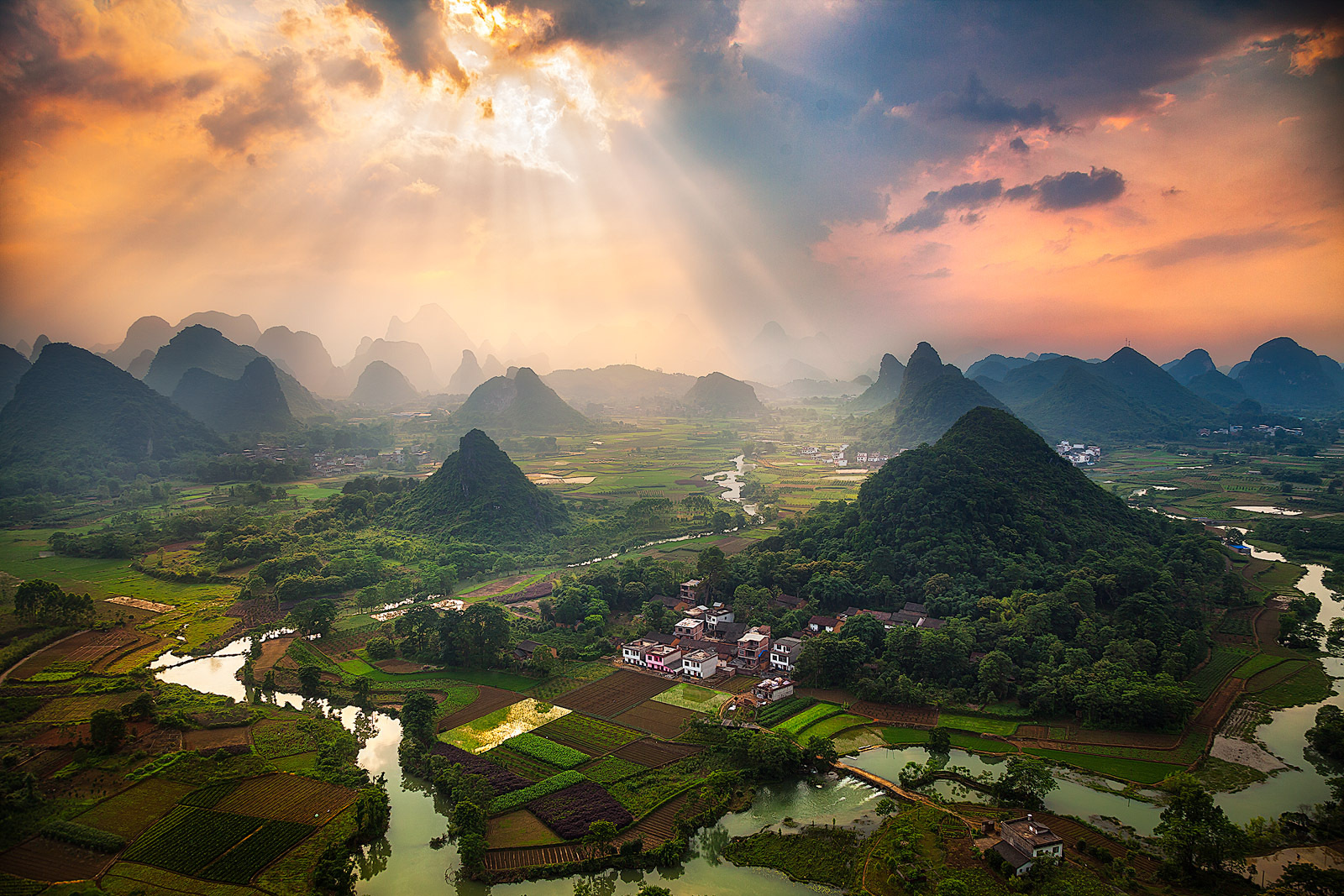 Note: In order to get the best photographs, we may modify this itinerary based on conditions, such as inclement weather and river levels.
Day 1 (May 14, 2018) - We will meet in the hotel lobby at our Yanshuo hotel at 6:00 pm. We will then head to a nearby location for a welcome dinner and to talk about the upcoming tour. Then, we head back to the hotel to get rested up for the early morning shoot and a busy week!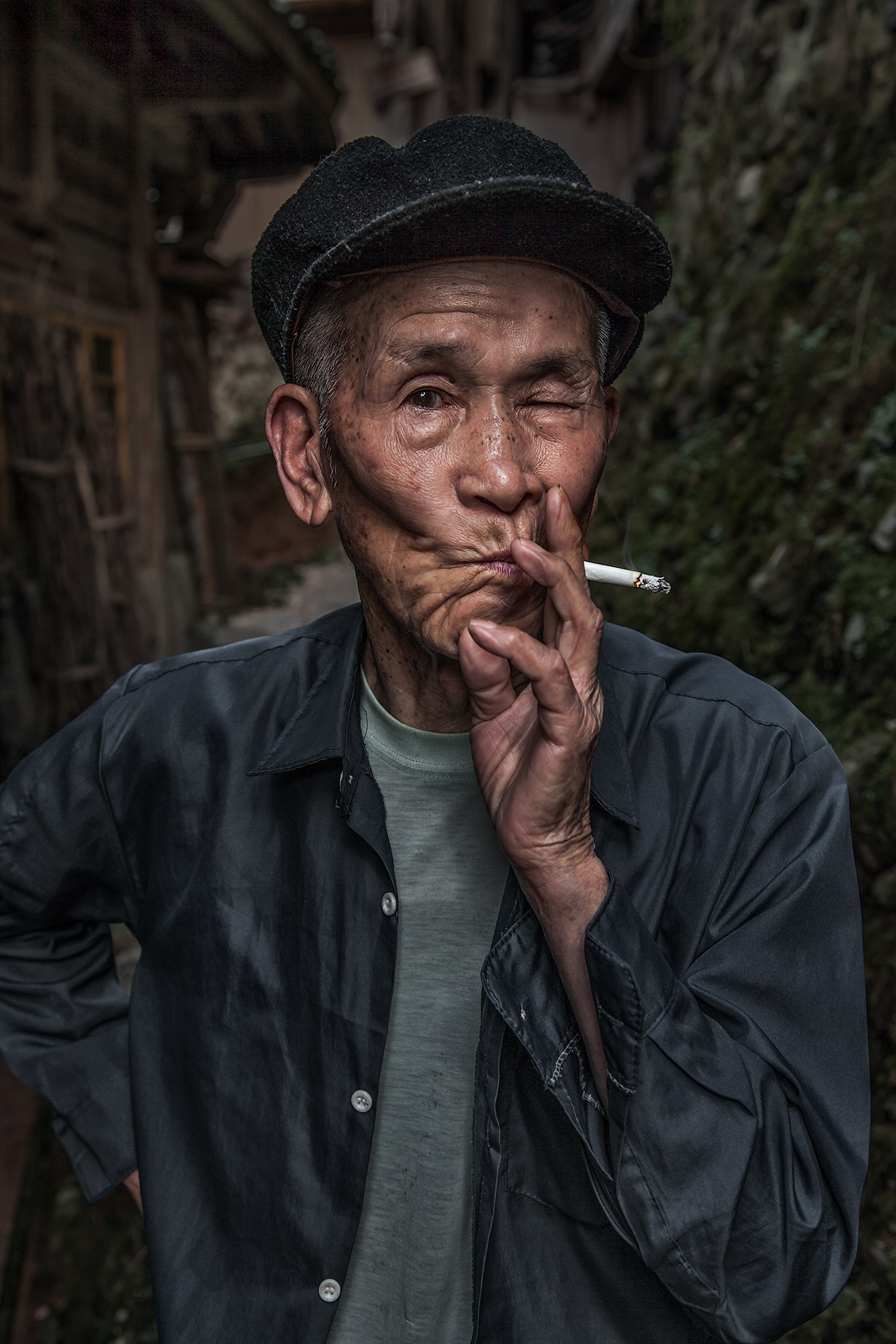 Day 2 (May 15, 2018) - Head out very early and take a motor raft up the Li River in the black of night to arrive at an epic location for a sunrise shot with a cormorant fisherman. After returning to the hotel for breakfast, we head off to explore and photograph the lively city of Xingping, stopping at an old village on market day along the way. Take a short rest in the afternoon or potentially have a presentation on processing portraits. In the afternoon, walk up a set of stone steps (about 700 of them... you have the option of skipping if you would like!), which will take about 25-30 minutes. The walk is worth it as you will find yourself looking out over a beautiful bend in the Li River.
Day 3 (May 16, 2018) - Get up early and walk 20 minutes up a stone path to perhaps the most beautiful and dramatic section of the Li River and karst mountain scenery. Depending on the weather, possibly stay around for a short while after sunset in hopes of light rays coming down through the clouds. Depending on weather and time, we may do a short raft trip up the Li prior to lunch, before bigger boats get on the river. After lunch, we plan on meeting some fishermen in their home town (or even their homes) for a portrait opportunity. For sunset, we have another opportunity to photograph a cormorant fisherman in a different location until dusk when the fisherman lights his oil lamps.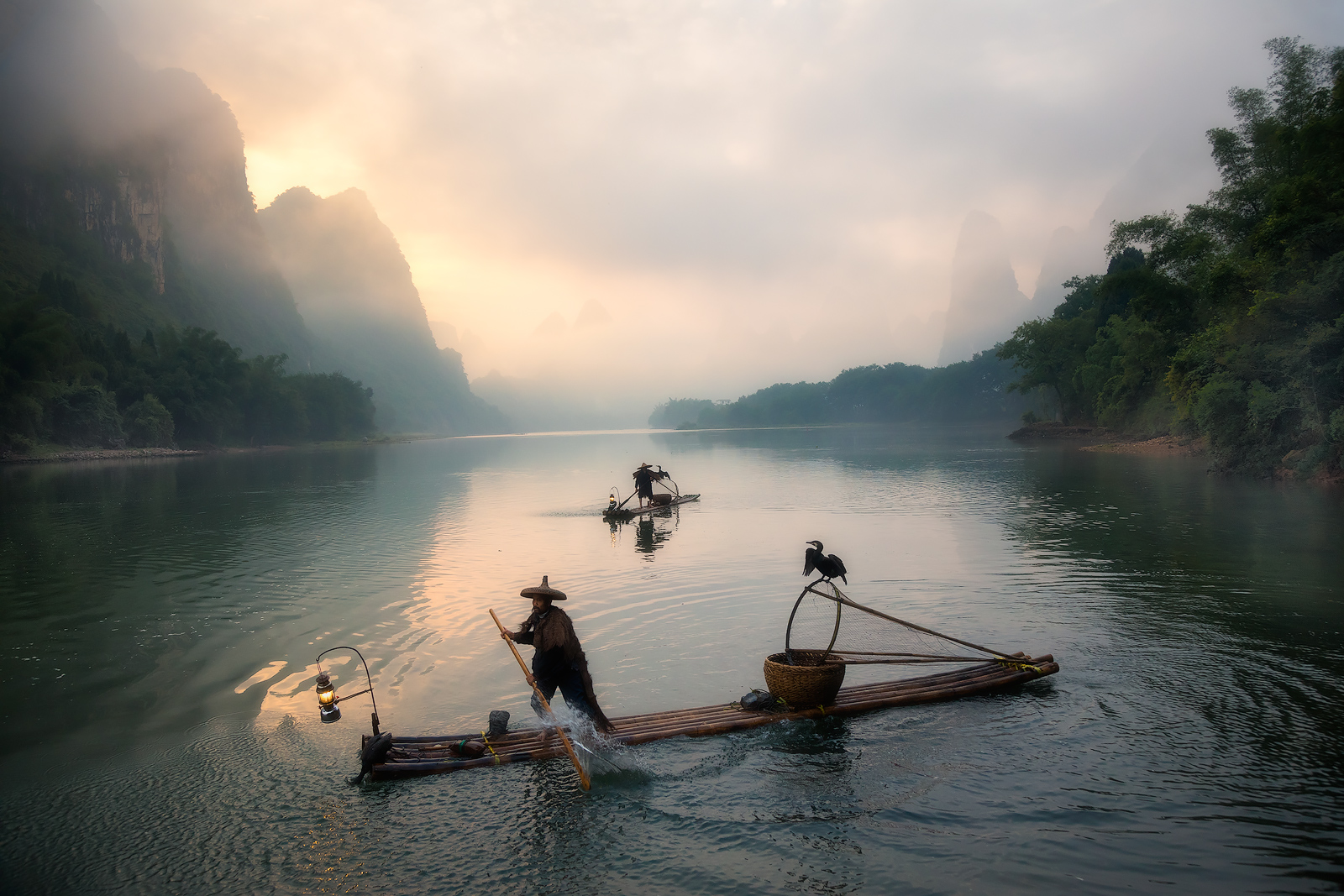 Day 4 (May 17, 2018) - We have blocked off this sunrise for a re-shoot of either the cormorant fishermen or a mountain overview, depending on results from the earlier shoots. After breakfast, we will use a local raftsman with his bamboo raft to photograph on the Yulong River, as no motors are allowed. We will then visit an ancient village to photograph a family inside their home and do some street photography in the village with beautifully carved ancient doors and houses where the 23rd generation of the same family still live. Surrounding fields also have local farmers planting, presenting great opportunities for photos. After lunch we will have a post-processing session and then stop at a location where locals take their water buffaloes across a low dam each day or potentially substitute with a sunset re-shoot of an earlier location.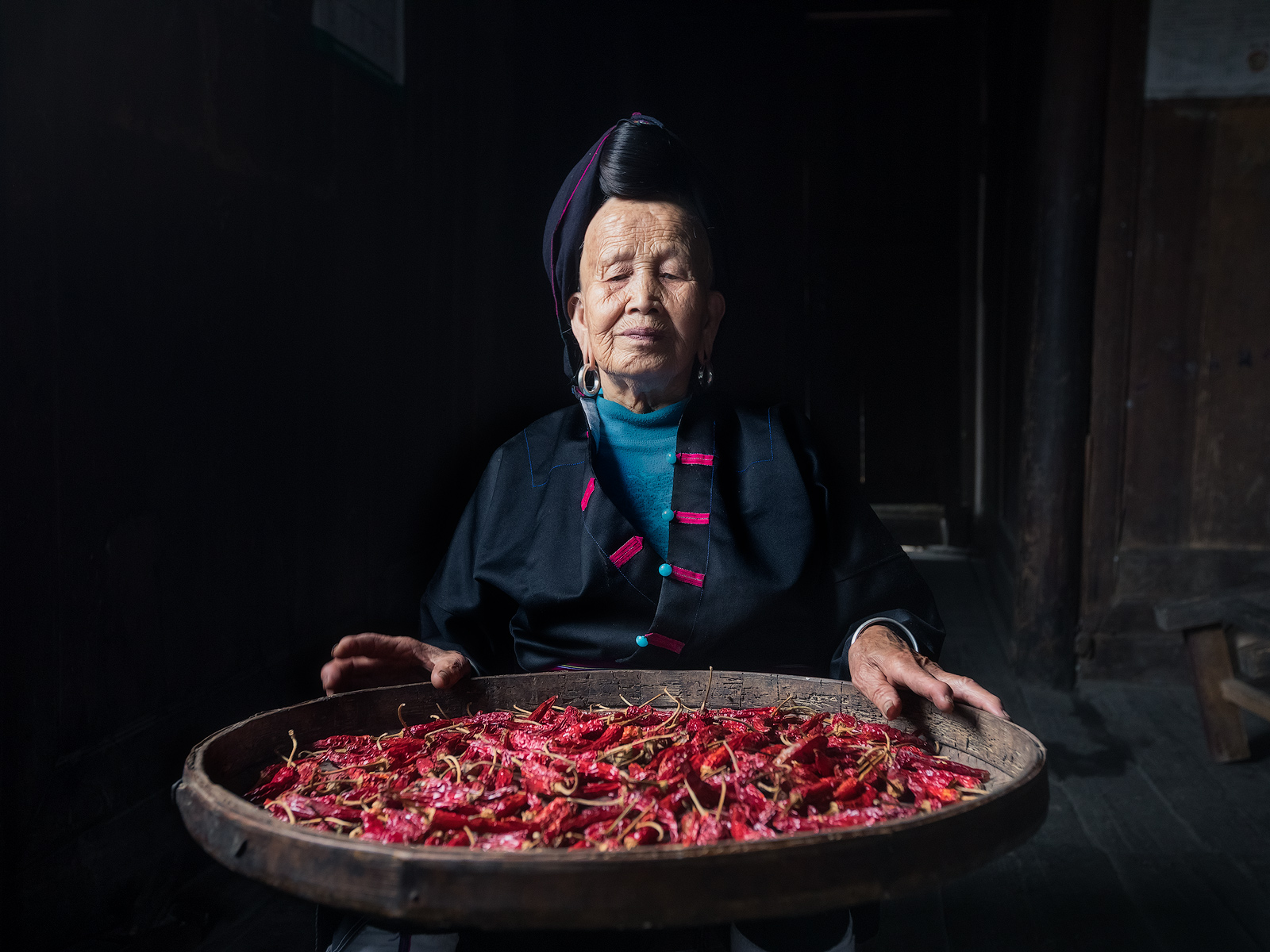 Day 5 (May 18, 2018) - After breakfast, we check out of our hotel and drive to the incredible Longji Rice Terraces, about 4-5 hours away. As required, we take a transfer bus to get to our sunset destination, which is a high point in the terraces. We will arrange for an opportunity to photograph workers in the field prior to sunset. We then walk down a stone path with steps for about 20-30 minutes to our hotel for dinner.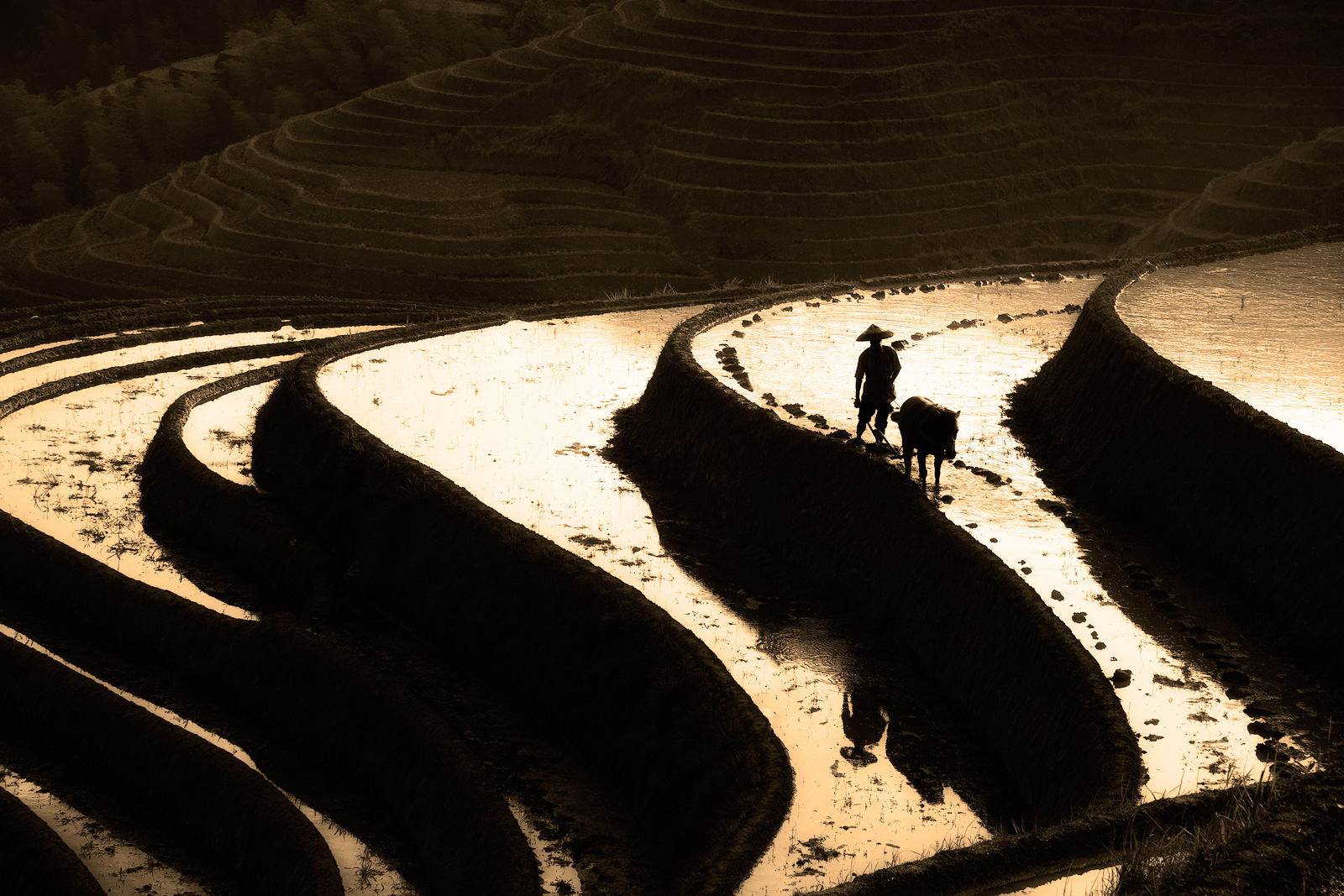 Day 6 (May 19, 2018) - This morning it is a 10-minute walk to our beautiful sunrise location, shooting down over the terraces and hopefully capturing a combination of sunlight and mist in the fields. Later in the morning, we arrange for an opportunity to photograph workers in the fields, as well as an afternoon portrait session near our hotel. We have blocked off sunset for a possible re-shoot of the terraces (depending on weather during our earlier shoots) and/or a post-processing session.
Day 7 (May 20, 2018) - After a final sunrise shoot in the terraces, we return to the hotel for breakfast. We check out of the hotel and head back towards Guilin, stopping in an ancient village along the way for street photography and arranged portrait photography with a family. Upon arriving in Guilin, we check into our hotel, have dinner and then have the opportunity to photograph the Sun and Moon Pagoda's at night, which are within walking distance from our hotel.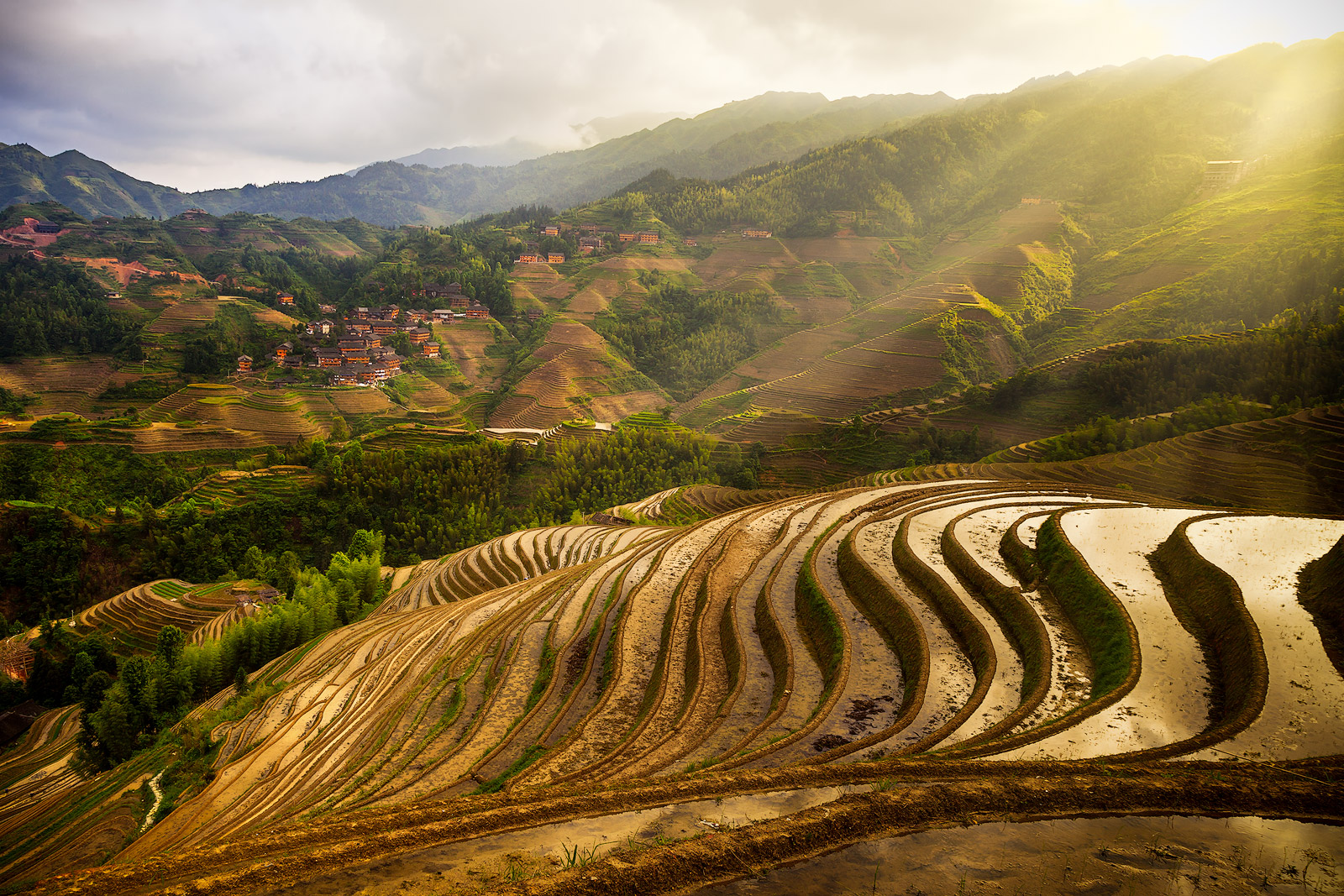 Day 8 (May 21, 2018) - Today, we hop on a bullet train, followed by a bus ride, to spend the afternoon meeting with and photographing the Dong people group. This is new to our tour this year and will be a exceptional way to finish off an amazing trip.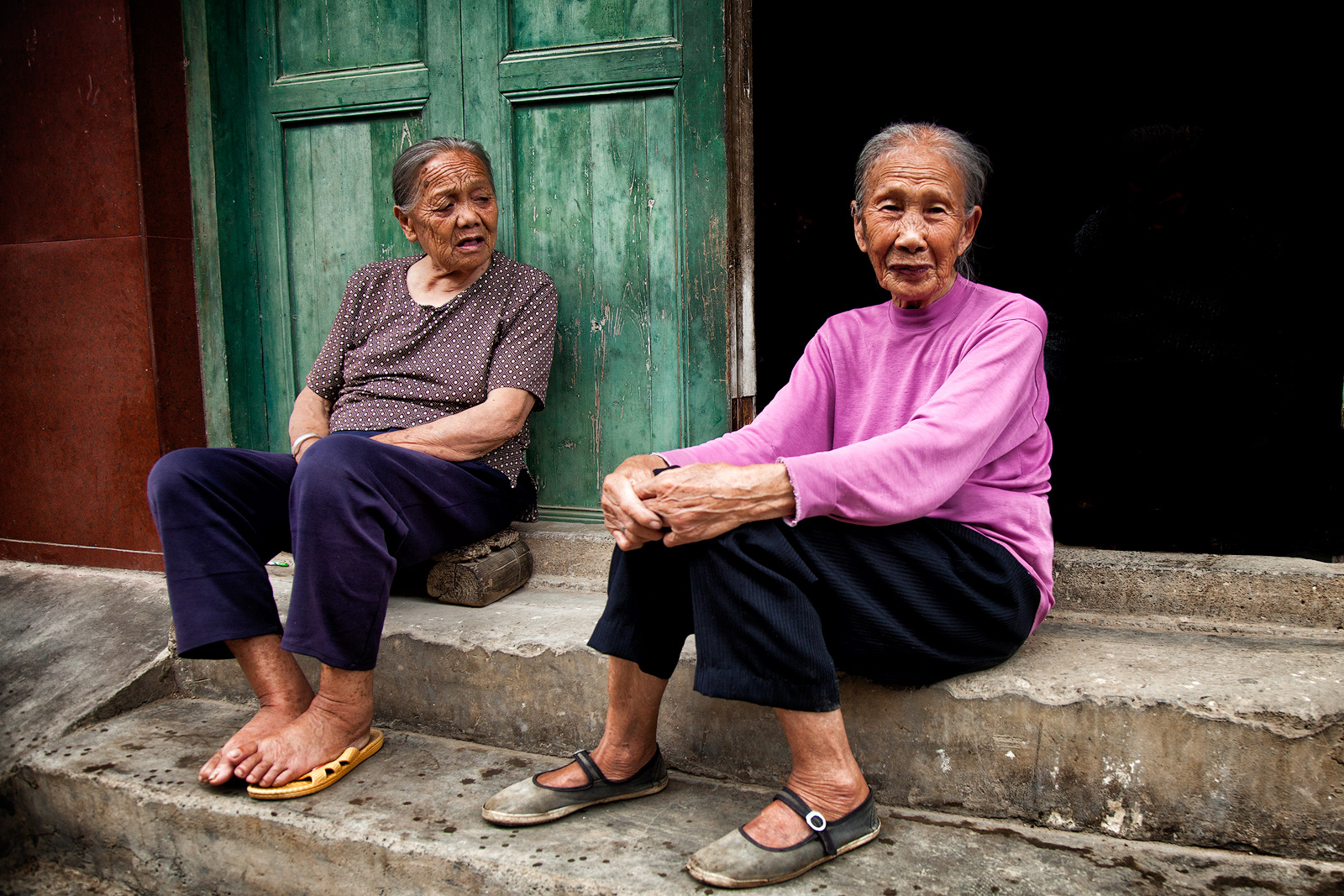 Day 9 (May 22, 2018) - All good things must come to an end. After a closing breakfast and some time to pack, we check out of our hotel and head to the airport for your connecting flights.
SKILL LEVEL AND CAMERA EQUIPMENT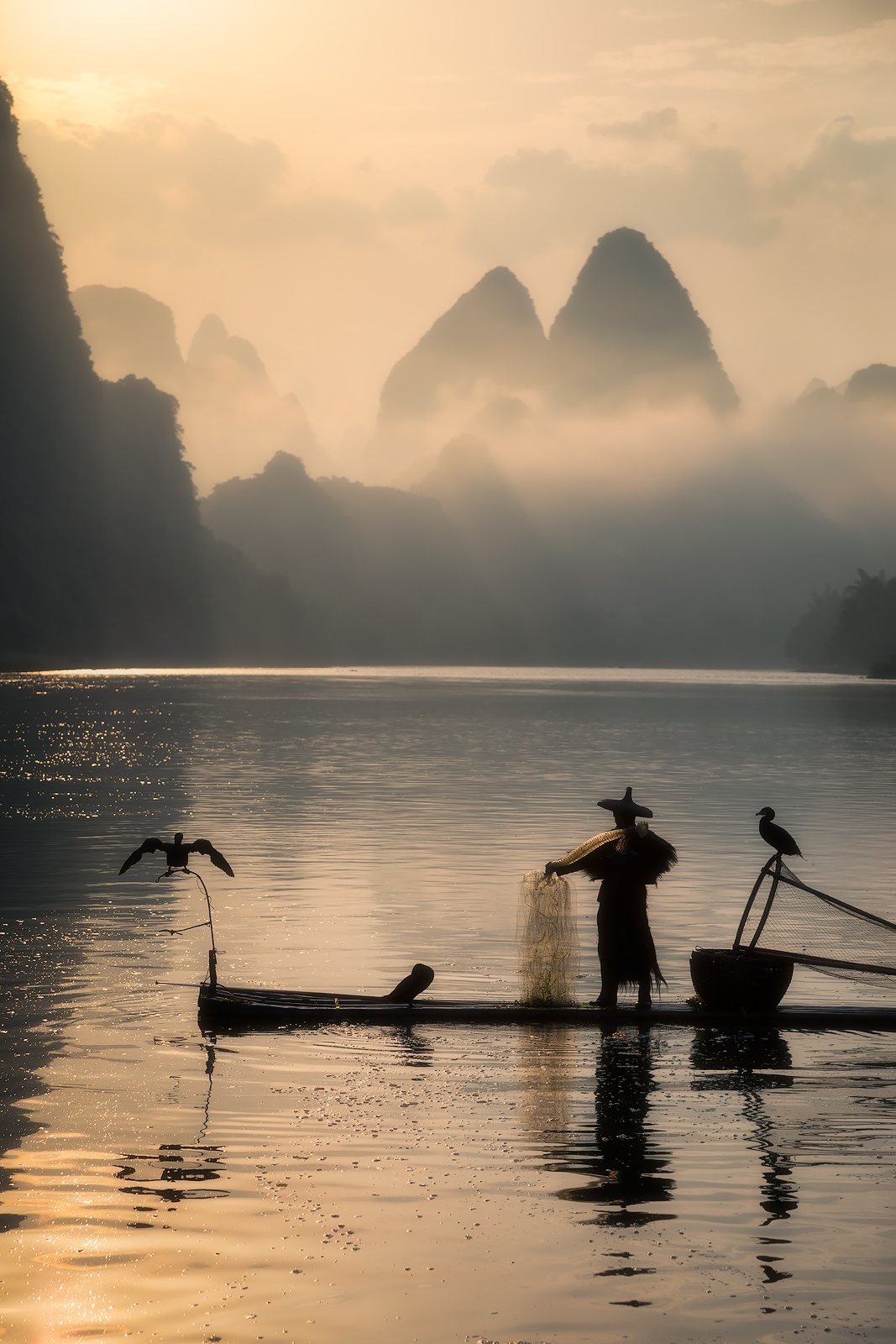 Although experience is an obvious advantage, this workshop is open to photographers of all skill levels. At minimum, however, you will want to be familiar with your camera's controls and understand the basics of composition.
You will want lenses in the wide-angle through telephoto range. Additionally, if you would like to shoot off-camera flash for some of the portraits, bring your trigger and flash. We will be teaching post-processing on Photoshop and Lightroom throughout the trip, so bring your laptop. Bring enough memory cards... I suggest at least 100 gigs or more. Bring extra camera batteries and, as always, a tripod.
TRANSPORTATION AND LOGISTICS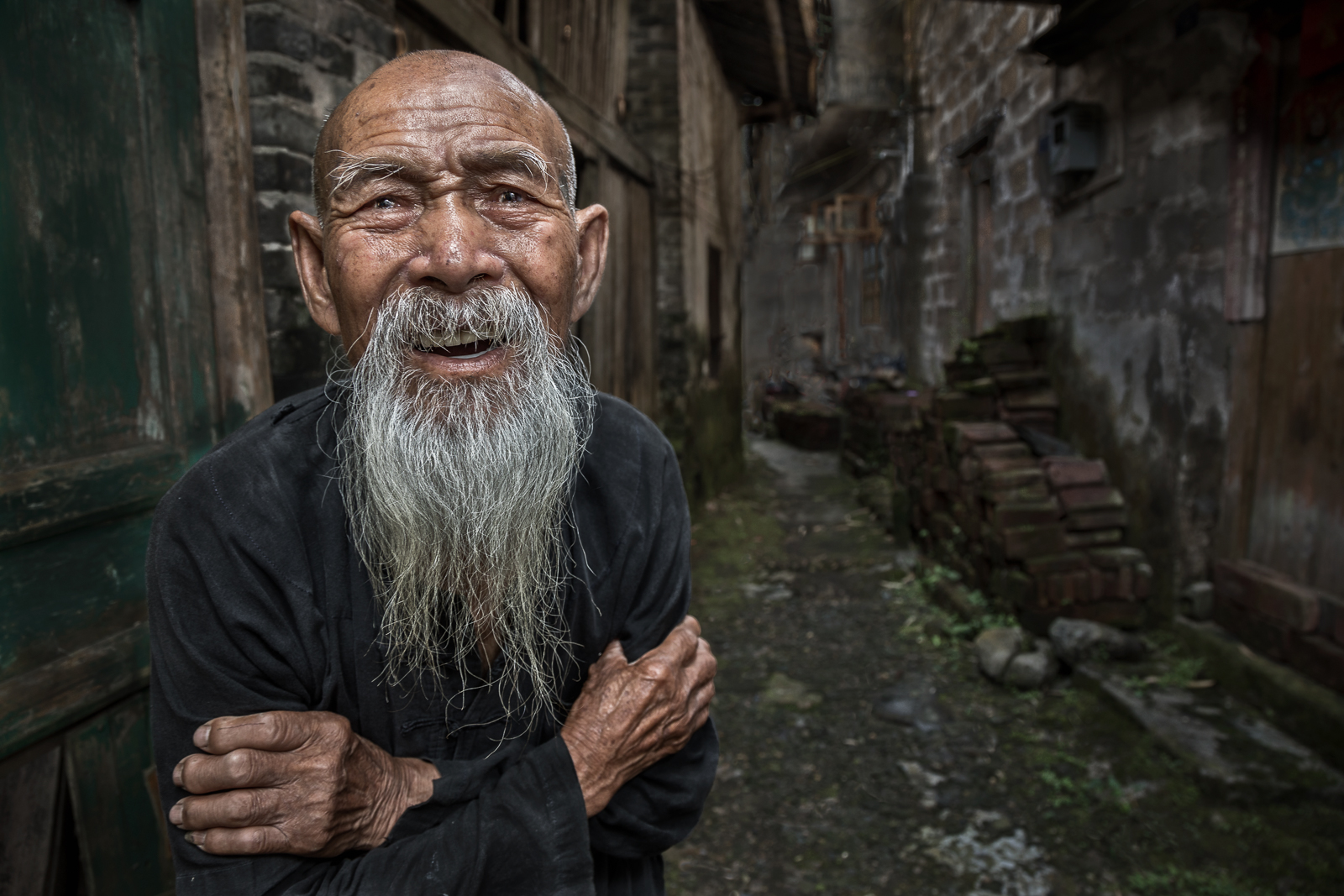 Making your air arrangements - IMPORTANT - hold off booking your air travel until we have a minimum group size together and can confirm the trip is moving forward as planned. Last year's tour sold out with a waiting list, so we do not anticipate this will be an issue. The group will meet for a welcome dinner at 6:00 PM at the lobby of Yangshuo Mountain Retreat on May 14th. You fly into Guilin (airport code KWL), which is an easy 2 1/2 hour flight from either Beijing or Shanghai, or a 90-minute flight from Hong Kong. These are the usual connection cities for Guilin. If you are departing from North America, you will need to depart 2 days prior to the workshop starting date because of the time change. A driver will meet you at the Guilin airport (watch for a sign with your name on it when you exit through customs/immigration) and take you to the Yangshuo Mountain Retreat by car.
If you will be arriving in Guilin a day early (on May 13th), we can help arrange an extra night's hotel, but it will be at your own expense. Starting on May 14th, your hotel is covered as part of the tour.
The group gets back to Guilin airport by 2:30 pm on May 22nd, so please book your return flights any time after 4:30 pm on May 22nd.
You might want to consider doing a few days on your own in Beijing, Shanghai or Hong Kong on the way there or back. All are great locations. Beijing has the Great Wall, Summer Palace and Forbidden City. However, If you do, you will have to make your own hotel and logistics arrangements, which will be at your own expense.
For transportation during the tour, we will be getting to most places via a comfortable bus, but will need to transfer to some alternate forms of transportation to get to some of the areas we will be photographing.
PHYSICAL REQUIREMENTS
IMPORTANT – This tour requires more physical exertion than most of my tours. For example, this includes two (optional) 20-30 minute walks up steep stone staircases, each with between 500 and 700 steps. The steps may be wet if it has rained. Also, the Ping'An rice terraces will require walking along stone paths and up and down steps. We will not be racing to these destinations and you will have sherpa assistance to carry your gear, but I want to make sure it is clear that there is more physical exertion required for this tour due to the topography of the area. Also, this area of China can be rainy at this time of year. So, we might find ourselves doing some of these walks while it is raining in hopes of better weather when we arrive at our destination. If you have certain physical limitations that you feel might present challenges, then feel free to contact me to discuss.
TRAVEL INSURANCE
Emergency medical treatment and medical evacuation insurance is REQUIRED for this trip.
DETAILS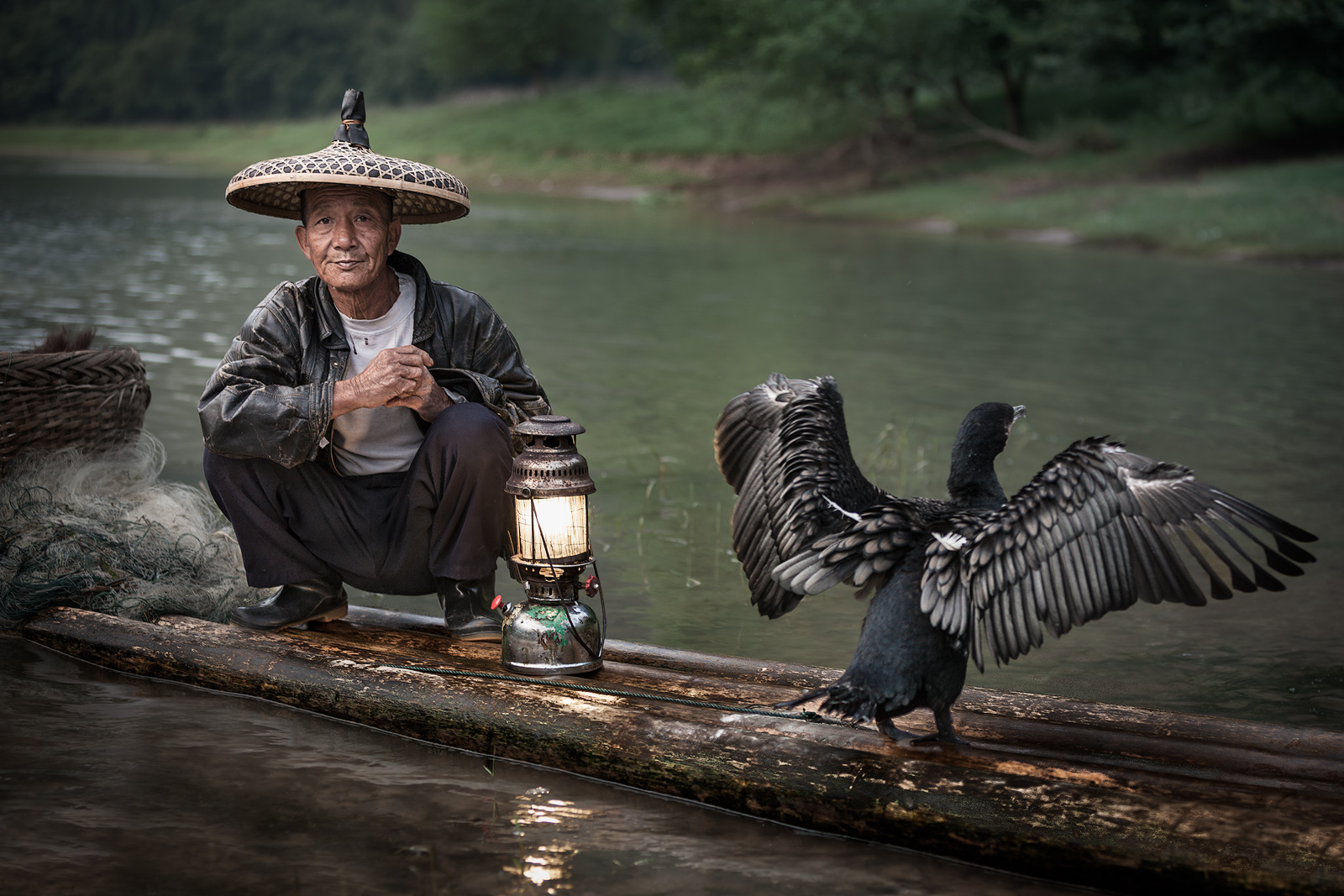 Operators - Rick Sammon & Ken Koskela Photography LLC
Instructors - Rick Sammon & Ken Koskela
Duration - 9 days, 8 nights
Maximum # Participants - 12
Price (Shared Room) - USD 4,850 (note: all meals included!)
Single Room Supplement - USD 650
Deposit - USD 1,500 and a completed registration form reserves your spot. Important - See "Tour Policies" (link below) for information on payments and refund policy.
Price Includes - Accommodations (sharing in double room unless single supplement paid), all meals including welcome dinner and farewell dinner, all local transportation including airport transfer, entrance fees and land usage costs, sherpa costs to carry your gear for several shoots, fees and tips for arranged shoots, photo instruction & critiques.
Price Does Not Include - Everything not noted as included, such as airfare to and from Guilin, passport and visa costs, alcohol. Additional tips for locals are optional.
Click here to email Ken with questions
Click here for tour info and policies (important!)
Click here for tour registration form
After reviewing the tour info and policies, please fill out & sign the tour registration form and then contact me via the contact form. You can pay the deposit using using the button below (this is only the deposit amount) or you can mail me a check if you prefer.