OCTOBER 4-10, 2018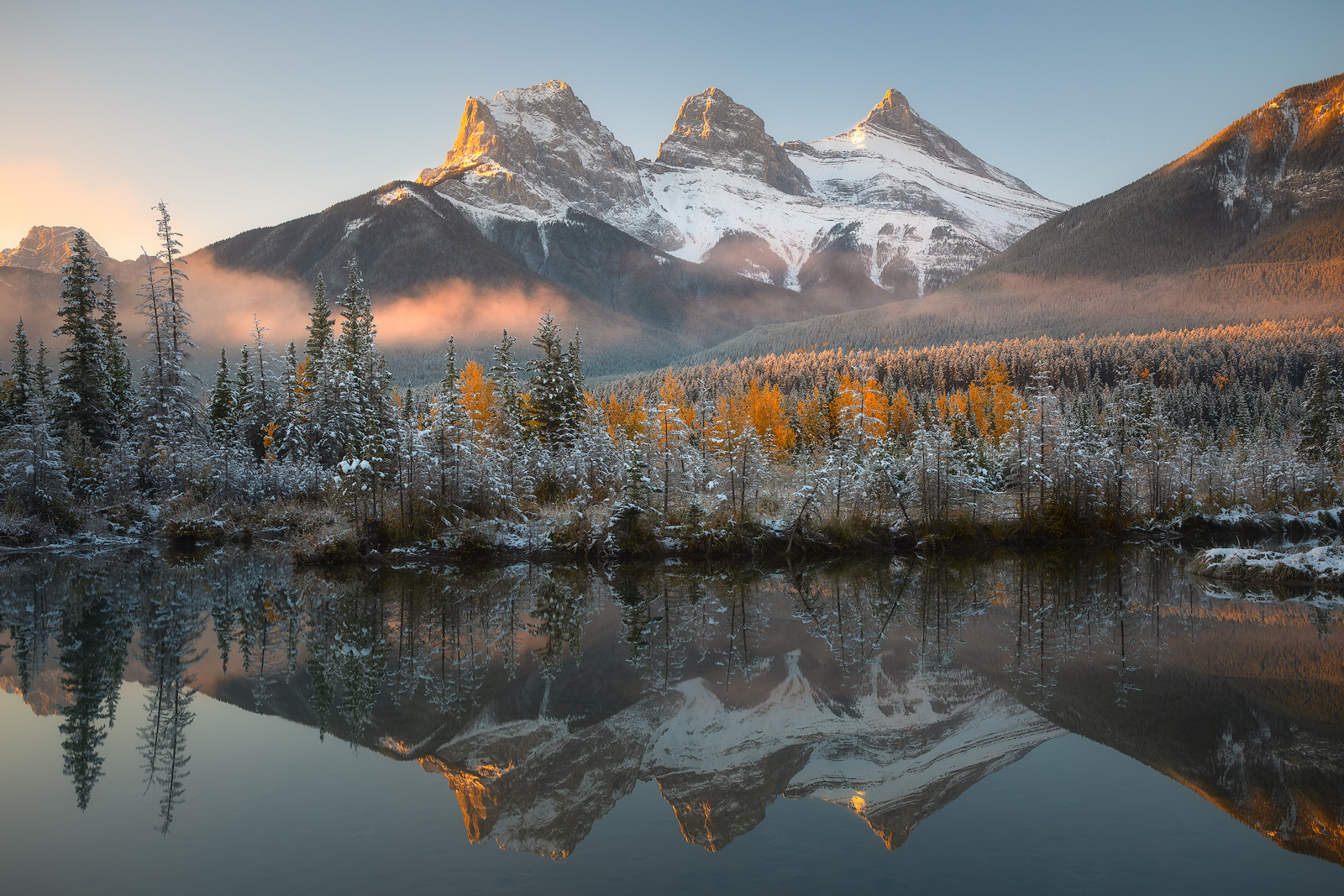 The Canadian Rockies are a place of unparalleled beauty and adventure. From jagged, snow-capped peaks to surreal turquoise glacial lakes, the Rockies offer some of the best landscape photography opportunities in the world. I am excited to be co-leading this tour with Josh Merrill.
We will focus on the majestic Banff and Jasper National Parks and adjust our daily shooting locations to maximize our chances for good light. We will photograph iconic mountain scenes in their early Winter splendor, as well as explore some lesser-photographed locations. Additionally, we will keep our eyes open for clear skies at night with the hopes of capturing the Northern Lights and star-filled skies with the Rocky Mountains as an amazing foreground. This is not a trip to be missed!
Note that, unlike most of my photography tours, accommodations and transportation are NOT included in the price of the trip. See details below.
Click here to see the gallery of images for the Canadian Rockies.
ITINERARY
The Canadian Rockies Photo Adventure is different from most of my tours in that there is no strict itinerary from the standpoint of Day 1, Day 2, etc. Instead, we will monitor weather conditions in order to put ourselves in the best possible positions for good light.
The first portion of our adventure will be based in Banff National Park, where we will begin with photographing some of the world's most stunning scenes, at places like Lake Louise, Moraine Lake, Two-Jack Lake, Vermillion Lakes and Johnston Canyon. We will keep an eye on the nights as well, with potential for Aurora Borealis and star-filled skies.
After experiencing the best of Banff, we will move on to Jasper National Park, also stopping in Yoho National Park.
You will explore these stunning places with two instructors, allowing for plenty of one-on-one instruction. While in the field, we will cover topics such as:
* Managing depth of field, including focus blending
* Capturing the full dynamic range, including exposure blending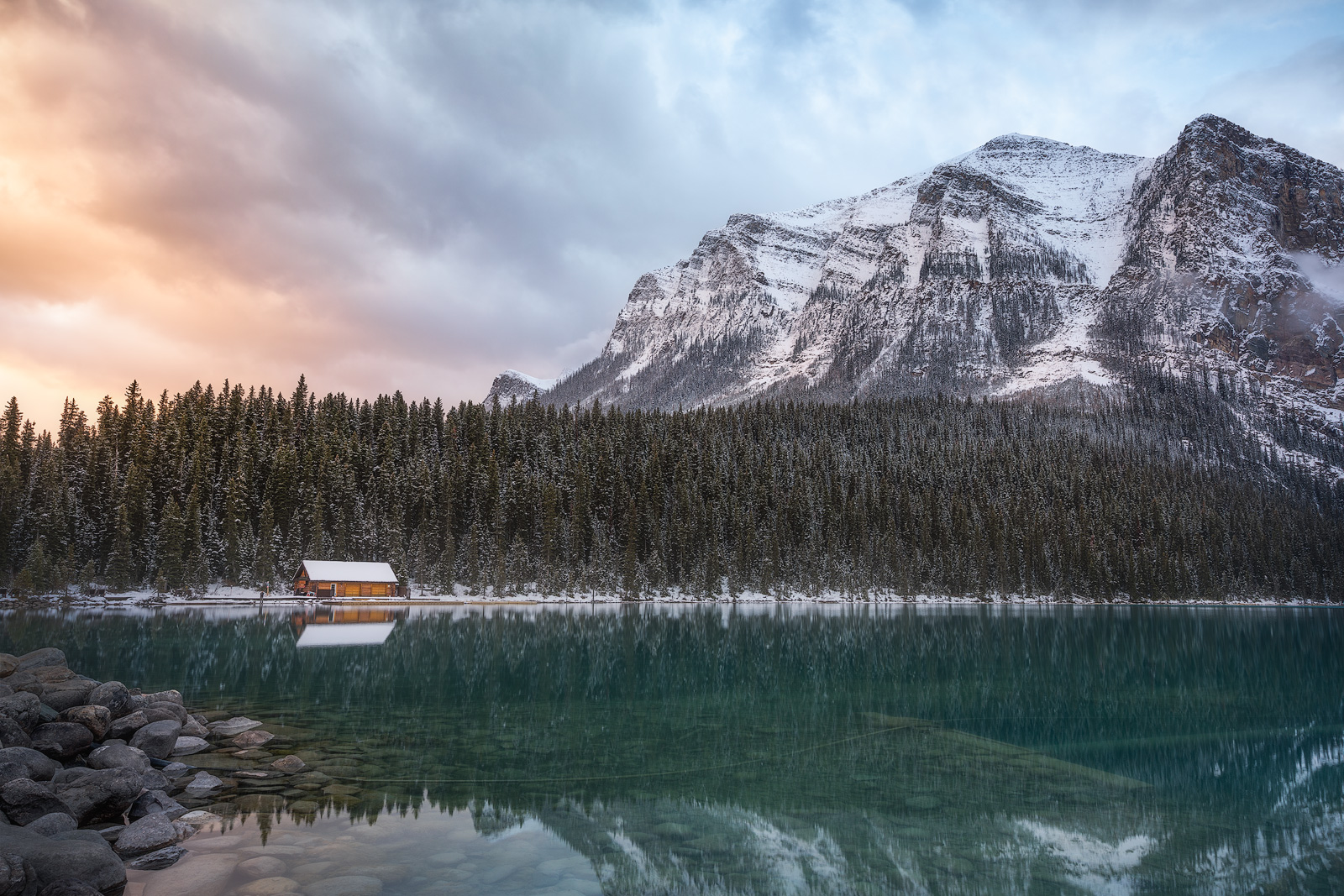 * Achieving balance in your images
* Using filters effectively
* Techniques for night photography
* Long exposure techniques
* Learning and practicing new compositions
Beyond that, we'll cover some advanced digital workflow techniques using Lightroom and Photoshop, focusing on techniques often used in landscape photography, including the Orton Effect, sharpening techniques, luminosity masking, and other techniques.
SKILL LEVEL AND CAMERA EQUIPMENT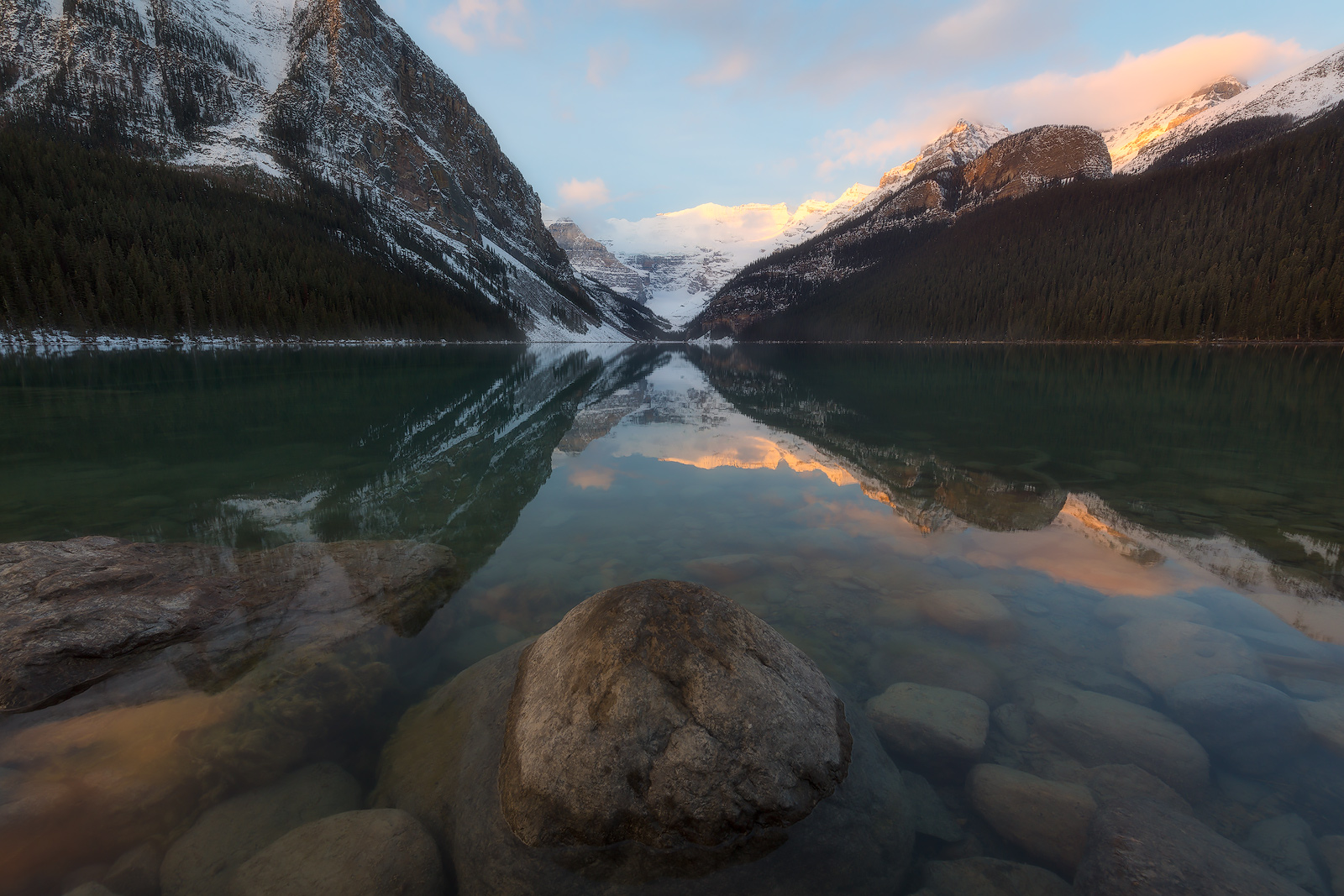 This photography tour is open to photographers of all skill levels. At minimum, you will want to be familiar with your camera's controls and understand the basics of composition. Bring lenses in the wide-angle through telephoto range.
We will be teaching post-processing in Photoshop and Lightroom, so have your laptop with you. Bring enough memory cards... I suggest at least 60 gigs or more. Bring extra camera batteries and, as always, a tripod. We will distribute a more detailed list to participants well before the tour.
TRANSPORTATION AND LOGISTICS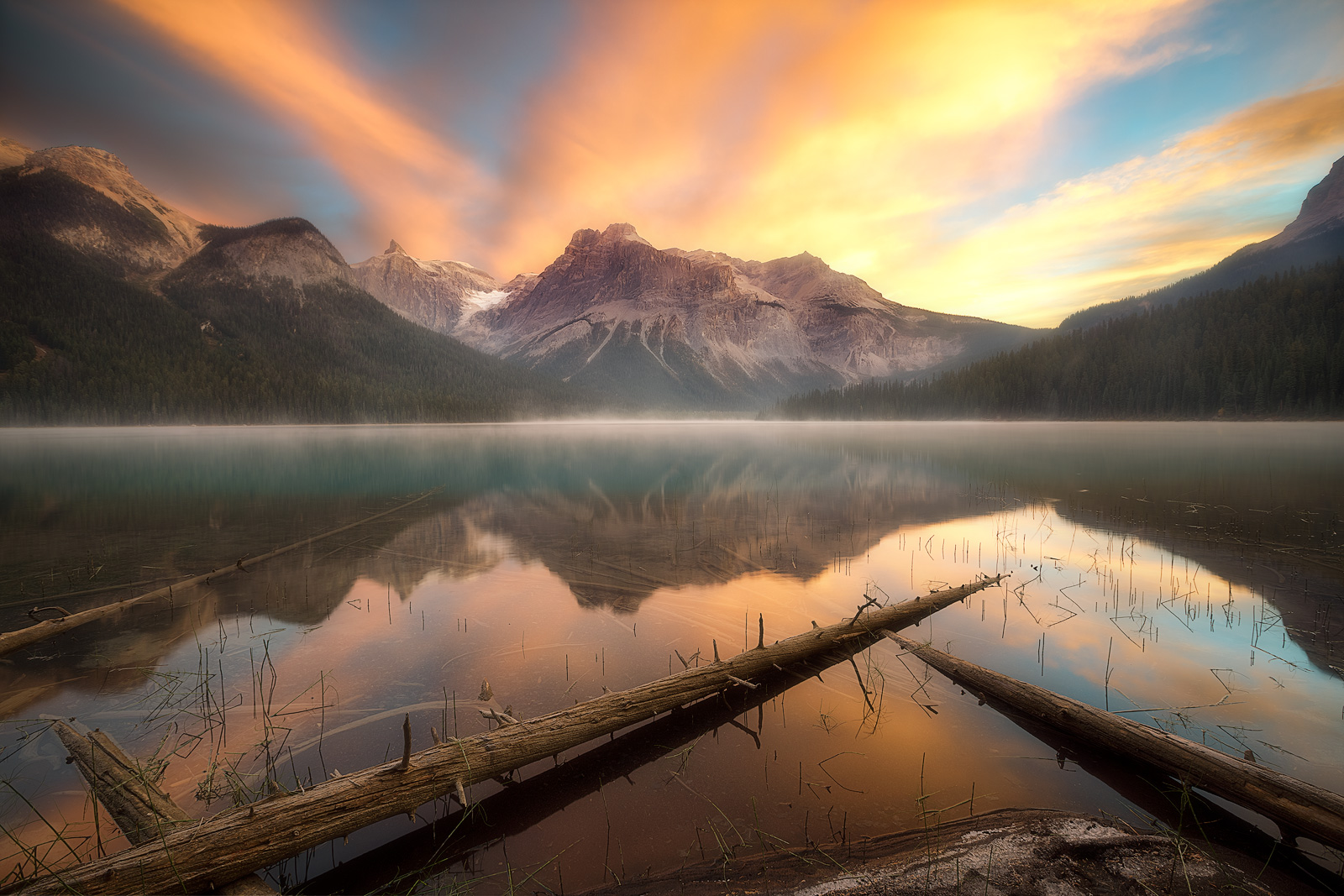 Making your air arrangements - The group will meet in the lobby of our Banff hotel on Thursday, October 4th, 2018, at 4:00 pm. The closest airport is Calgary (airport code YYC). For your return travel, we will be finishing our tour after a sunrise shoot on Wednesday, October 10th in Jasper National Park, which is just under 5 hours from Calgary airport. Sunrise is at 8:00, so you could be on the road by 9:00/9:30 am to head to the airport for an afternoon flight out of Calgary.
Lodging - Our first base of operations will be in Banff, Alberta within Banff National Park. From there we'll move on to stay for a couple of nights in Jasper, Alberta within Jasper National Park. We will arrange rooms to be blocked off in both locations at a discounted rate for your convenience. However, you may choose to stay elsewhere if you prefer. We'll e-mail you a detailed itinerary so that you can make your hotel reservations. Be advised that the first portion of our trip in Banff will take place over the Canadian Thanksgiving Holiday, so booking lodging and rental car as early as possible is recommended.
PHYSICAL REQUIREMENTS
Most of the locations that we will photograph on this trip will feature easy access, but there will be a couple which will require moderate exertion at high elevation. None of our hikes will go beyond 3 miles round-trip, but you'll need a moderate level of physical fitness and some experience hiking to manage this tour safely.
TRAVEL INSURANCE
We strongly suggest you purchase emergency medical treatment and medical evacuation insurance for this trip.
DETAILS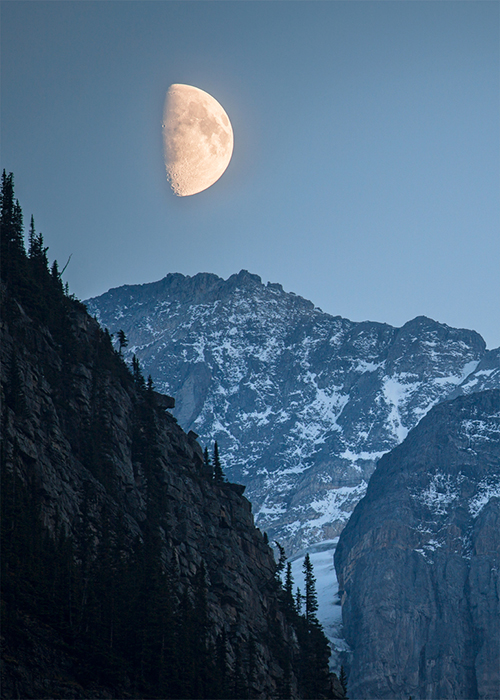 Instructors - Ken Koskela and Josh Merrill
Duration - 7 days, 6 nights
Maximum # Participants - 8
Price - USD 1,975
Deposit - US$500 and a completed registration form reserves your spot. Important - See "Tour Policies" (link below) for information on payments and refund policy.
Price Includes - Instruction in the field: craft and creative strategies for landscape photography; image reviews; instruction on digital darkroom workflow.
Price Does Not Include - Everything not noted as included, roundtrip airfare, transportation, food and lodging, park entrance fees. Participants are welcome to carpool and share accommodations during the tour.
Click here to email Ken with questions
Click here for tour info and policies (important!)
Click here for tour registration form
After reviewing the tour info and policies, please fill out & sign the tour registration form and then contact me via the contact form. You can pay the deposit using using the button below (this is only the deposit amount) or you can mail me a check if you prefer.