Photography is not for the faint of heart. Photographers regularly deal with adverse weather, sleep deprivation, jet lag and a host of other things just for the hope of bringing home a few amazing images. Personally, I've been shocked by an electric fence, stranded on the side of the road and even attacked by a swarm of angry bees in the desert while photographing.
So why bother? For me, it is not just about bringing home a great image. I love every aspect of the photographic process, from learning a new technique to shooting to post-processing… even the promotional and business aspects of photography are fun for me. Photography also takes me to places I would not otherwise go and allows me to meet people I would not otherwise meet. For all these reasons, it doesn't take much to convince me to hop on a plane destined for an amazing photographic location.
I absolutely love teaching what I've learned to others. If you are interested in improving your skills, I offer photo tours & workshops, private post-processing tutoring via Skype, a free monthly photography magazine and a photography blog. I also sell prints for those who are interested. As always, feel free to contact me any time if you have a question or just want to say hello. Thanks for stopping by!
Latest Blog Post
April 7th, 2017
Incorporating transition into an image can make it more dynamic. There are different types of transition that you can use, but one that works well is to have warm tones (such as orange and yellow) transitioning to cool tones (such as blue). The above image of Iceland's glacier beach has a decent sunrise in the […]
Photography tours and workshops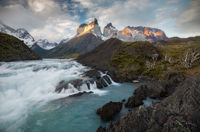 Check back in February for announcements on Patagonia and Venice 2018 tours & workshops! Please contact me with any questions.
FREE MONTHLY MAGAZINE